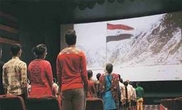 States yet to decide on national anthem query
Home Ministry notified the appointment of a 12-member inter-ministerial committee to take a final call on the playing of the national anthem in cinema and public places.
The panel, led by Special Secretary B.R. Sharma, is expected to give its report.
The committee to give recommendations regarding regulations on playing/singing of the national anthem and suggest changes in the acts and orders relating to the Insult of National Honour Act, 1971.
Audiences were not expected to stand if the anthem is part of the movie.
Did you Know
The national anthem was composed in Bengali by poet Rabindranath Tagore.

The song was adopted by the Constituent Assembly as the National Anthem of India on 24 January 1950.

A formal rendition of the national anthem takes approximately 52 seconds.