With the release of IBPS RRB PO 2020 recruitment notification, the first and foremost thought that strikes is what is the total number of vacancies that are released? Knowing the vacancies solves many purposes including applying for the exam and guiding your preparations. In this article IBPS RRB PO vacancy 2020, we will walk you through complete vacancy details category-wise.
What is even more interesting is that the vacancies announced in 2020 are higher in number as compared to the 2019 recruitment.
Register Here to Receive Daily Updates On Upcoming Exams & Courses
So, let's dive in and have a look at the vacancies.
1. IBPS RRB PO Vacancy 2020 – State-wise 
The vacancies announced for IBPS RRB PO in 2020 is a total of 3800, in comparison to last year's 3382. There is an increase of 12.36% of the total vacancies for this year.
This has come as a piece of good news for the candidates who were eagerly waiting for the exam to happen.
1.1  IBPS RRB PO Vacancy Comparison 2019 vs 2020
Here is the difference between the previous year vacancy and the ones released this year: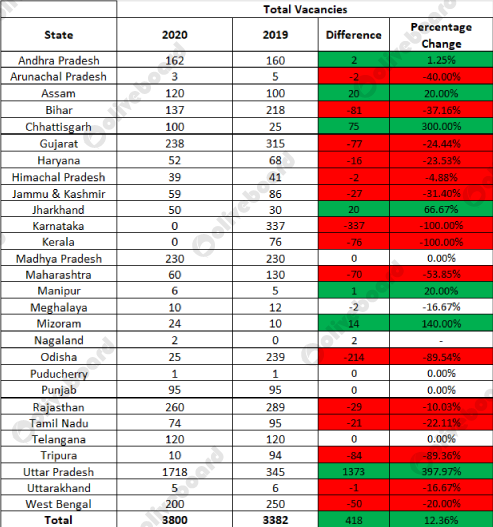 There is an overall increase of 12.36% in the vacancies in comparison to 2019.
More vacancies depict more chances of the selection which in turn demands your complete preparation and dedication.
To Start off with your prep Attempt A Free Mock test first. This will help you assess your present condition, thus you can plan your way ahead.
Once you have taken the free mock test, you would know where you stand with respect to your preparation. You would be aware of your Strong and Weak Areas.
To Strengthen your weaker areas, We would recommend you to join our IBPS RRB Online Course here.
It is the most comprehensive course for IBPS RRB PO 2020 preparation.
It has special live classes by Top faculty for each section.
Live Practice sessions where you can compete with your fellow aspirants.
1.2

IBPS RRB PO Vacancy 2020 – State & Bank wise List
State
Bank
Total
Andhra Pradesh
Andhra Pragathi   Grameena Bank
0
Andhra Pradesh
Chaitanya Godavari   Grameena Bank
62
Andhra Pradesh
Saptagiri Grameena   Bank
100
Arunachal Pradesh
Arunachal Pradesh   Rural Bank
3
Assam
Assam Gramin Vikash   Bank
120
Bihar
Dakshin Bihar Gramin
137
Bihar
Uttar   Bihar Gramin Bank
NR
Bihar
Uttar Bihar Gramin   Bank
0
Chhattisgarh
Chhattisgarh Rajya   Gramin Bank
100
Gujarat
Baroda Gujarat Gramin
213
Gujarat
Saurashtra   Gramin Bank
25
Gujarat
Saurashtra Gramin Bank
45
Haryana
Sarva Haryana Gramin   Bank
52
Himachal   Pradesh
Himachal Pradesh   Gramin
39
Jammu   & Kashmir
Ellaquai Dehati Bank
30
Jammu   & Kashmir
J & K Grameen Bank
29
Jharkhand
Jharkhand Rajya Gramin   Bank
50
Karnataka
Karnataka Gramin Bank
0
Karnataka
Karnataka Vikas   Grameena Bank
0
Kerala
Kerala Gramin Bank
0
Madhya   Pradesh
Madhya Pradesh   Gramin Bank
193
Madhya   Pradesh
Madhyanchal Gramin   Bank
37
Maharashtra
Maharashtra Gramin   Bank
70
Maharashtra
Vidharbha Konkan
NR
Maharashtra
Gramin   Bank
Manipur
Manipur Rural Bank
5
Meghalaya
Meghalaya Rural Bank
10
Mizoram
Mizoram Rural Bank
24
Nagaland
Nagaland Rural Bank
2
Odisha
Odisha Gramya Bank
NR
Odisha
Utkal Grameen Bank
25
Puducherry
Puduvai Bharathiar   Grama Bank
1
Punjab
Punjab Gramin Bank
95
Rajasthan
Baroda Rajasthan   Kshetriya Gramin Bank
200
Rajasthan
Rajasthan Marudhara   Gramin Bank
113
Tamil Nadu
Tamil Nadu Grama Bank
74
Telangana
Andhra Pradesh   Grameena Vikas Bank
120
Telangana
Telangana Grameena   Bank
NR
Tripura
Tripura Gramin Bank
10
Uttar   Pradesh
Baroda UP Bank
497
Uttar   Pradesh
Aryavart Bank
1068
Uttar   Pradesh
Prathama UP Gramin   Bank
153
Uttarakhand
Uttarakhand Gramin   Bank
4
West   Bengal
Paschim Banga Gramin   Bank
0
West   Bengal
Uttarbanga Kshetriya   Gramin Bank
NR
West   Bengal
Bangiya Gramin Vikash   Bank
200
To get access to more than 200 Free Ebooks, Register / Login Here.
It includes special monthly current affairs Bolt, Banking Awareness Guide, etc.
1.3 IBPS RRB PO Vacancy 2020- Category-wise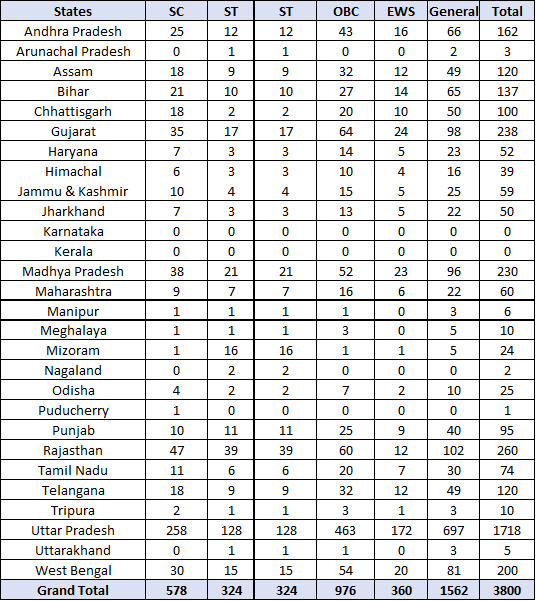 Other Important Links:
IBPS RRB PO Salary & Job Profile
IBPS RRB Complete Online Course Details
That brings us to the end of this article. The IBPS RRB PO Vacancy notified here are as released by the Official authority, they reserve the right to alter any vacancy at their discretion. But don't worry any changes will be notified here through this blog.