NABARD Grade A officer post is an entry-level position offered by the National Bank of Agriculture & Rural Development (NABARD). NABARD is a Development Bank with a mandate for providing and regulating credit and other facilities for the promotion and development of agriculture, small-scale industries, cottage and village industries, handicrafts and other rural crafts and other allied economic activities in rural areas with a view to promoting integrated rural development and securing prosperity of rural areas, and for matters connected therewith or incidental thereto. Every year NABARD recruits Grade A officers (Asst. Managers) to join its workforce and work for the betterment of the rural economy. If you are someone who is aiming NABARD Grade A exam and looking for NABARD Grade A Study Material PDF, then here you will find free PDF eBooks for your preparation of ESI & ARD subjects for Phase-2 of the NABARD Grade A exam. You can download these PDF eBooks using the links given below.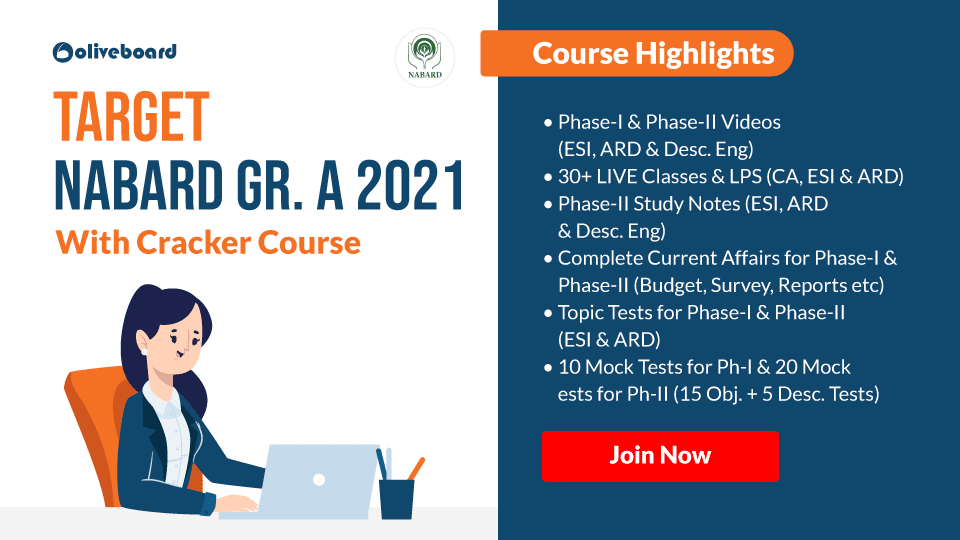 NABARD Grade A Study Material PDF eBooks
Use the links given below to register for free and then download the free PDF eBooks for NABARD Grade A Preparation.
---
NABARD Grade A Online Course 2021
» Oliveboard offers the best NABARD Grade A Online Coaching for you all which will help you crack the exam with ease in your first attempt.
» NABARD Grade A Online Course would include Online Video Lessons, Detailed Study Notes, All-India Mock Tests, and much more for your exhaustive preparation.
» Oliveboard's NABARD Grade A Online Course 2021 will be your one-stop destination for all your preparation needs.
Why Join Oliveboard?
» Structured preparation @ one place.
» Strengthen your concepts using Videos & Notes.
» Have a grip on topics through Topic Tests.
» Improve speed and accuracy through Full-length Mock Tests.
Course Details
» Phase 1 & 2 Video Lessons (ESI, ARD & Desc. Eng)
» LIVE Classes & LPS on Imp. Topics
» Phase 2 Study Notes (ESI, ARD & Desc. Eng)
» Complete CA for Phase 1 & 2 (Budget, Survey, Reports, etc)
» 10 Mock Tests for Phase 1 & 20 Mock Tests (15 Objective + 5 Descriptive tests) for Phase 2 with Solutions & Analysis
As they say, start early and stay ahead!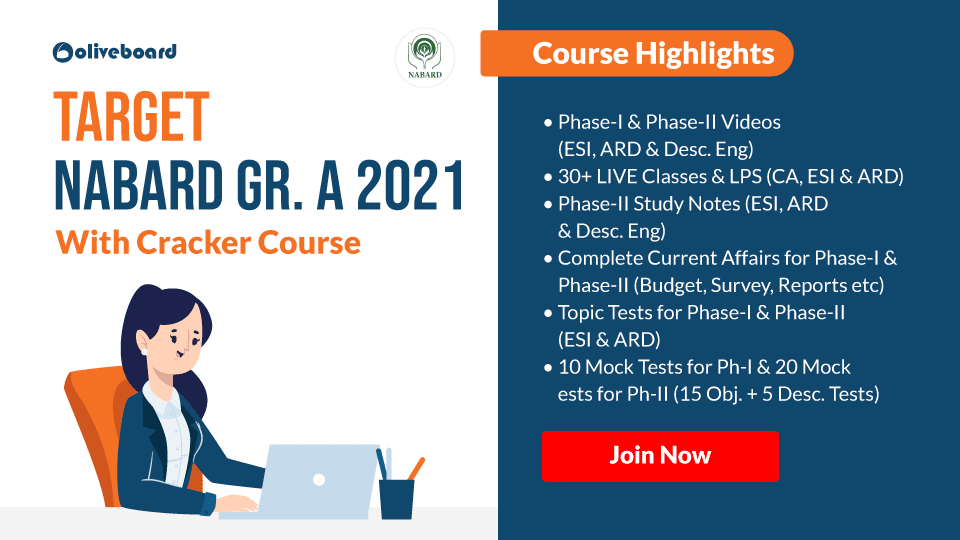 ---
Interact with your fellow aspirants about Time Strategy For NABARD Entrance Exam and NABARD Study Notes in our discussion forum.
Alternatively, you can also download the Oliveboard Mobile App and GK App for free study material and other latest updates.
Happy Learning from Oliveboard!
  Oliveboard Live Courses & Mock Test Series