This blog post is dedicated to the success story of Pushkar Pahwa who cleared RBI Grade B 2016. He has shared his strategy to Crack RBI Grade B with us all here. Let us go on and read his extraordinary journey to gain lessons from his hard learnt experience.
My Story
"It is indeed a proud moment for me to share with you some tips regarding preparation for the RBI Gr B exam. But since many of you appearing for this exam are civil services aspirants, I would like to devote a paragraph to you before I start with the strategy."
"Being a civil services aspirant since 2011 and after many failed attempts in several competitive examinations including state civil services, believe me, that I am very aware of your struggle and understand how frustrating your journey might be."
"But to reassure you, I would like to mention that a major credit of my success in this exam goes to my civils preparation because it helped me score well in General Awareness & English Sections (in Phase I) and Economics & Social Issues Paper (in Phase II)."
"So, although most of you may not be able to taste the direct fruit of your hard work, believe me, all of you will be rewarded for your hard work in numerous indirect ways, and I hope selection in RBI Gr B exam is one of those for many of you."
"For those of you who have already failed in multiple CSE attempts, I want you to have a look at the list of the exams I failed to qualify for so that you don't lose heart. Also, never forget the fact that none of the examinations is a judgment on your capability and intelligence. There are many variables at work that lead to your success/ failure and all of them are not in your control. Your job is to prepare well and give your best. I wish you all the best for your journey!"
List of Exams that I appeared for
For the civil services aspirants looking for motivation, here is an extensive list of the examinations I appeared but could not qualify for:
1

UPSC 2012

Failed to qualify in Mains

2

UPSC 2013

Failed to qualify in Mains

3

UPSC 2014

Failed to qualify in Mains

4

UPSC 2015

Failed to qualify in Prelims

5

UPSC 2016

Appeared only for IFoS. Failed to qualify in Prelims

6

Punjab Civil Services 2013

Failed to qualify Prelims

7

Punjab Civil Services 2014

Appeared for the interview. Couldn't make it to the merit list.




Last seat allocated to rank 75. My rank was 76.

8

Punjab Civil Services 2015

Appeared for the interview. Couldn't make it to the merit list.




Was awarded poor marks in the interview.

9

RBI Gr B 2013

Failed to qualify in Phase 1

10

RBI Gr B 2014

Failed to qualify in Phase 2

11

RBI Gr B 2015

Failed to qualify in Phase 1

12

APFC 2012

Failed to qualify in the 1st stage of the exam itself.

13

APFC 2015

Failed to qualify in the 1st stage of the exam itself.

14

CAPF 2013

Appeared for the interview. Failed to make it to the merit list.
Now going back to the RBI Grade B exam.
RBI Grade B is conducted by the Reserve Bank of India for the recruitment of Grade B officers at their branches. The primary duties of a Grade B Officer in RBI involve Managing the Government and Central Bank Accounts, maintaining the circulation of currencies, and Keeping a check on inflation.
The exam is conducted in two phases:
Phase II: Objective + Descriptive Test
Personal Interview.
---
I.

Strategy for Phase I of RBI Gr B Examination:
Evaluating the competition
This is the most difficult part of the examination in terms of numbers as the level of competition at this stage is fierce. Just to give you an idea of the challenge, and the success ratio, refer to the following table regarding the trends in the last three years:
Batch
No. of candidates appeared in Phase 1
No. of candidates appeared for phase 2
Phase 1 Cut off (aggregate)
Percentile required to clear phase I*

2014

118630

1598

104

98.65

2015

74661

2617

88.50

96.49

2016

105715

3234

98.50

96.94

* Assuming that all the successful candidates of Phase I appeared for Phase II
So that means you must score a minimum of 96.5 percentile i.e. be in the top 3.5% to get through Phase I.
---
Strategy to attempt the Phase 1 Exam sections
First, you need to go through the syllabus and your previous marks sheet (if you have already appeared in Phase 1 of the Grade B exam) and figure out what are your strong and weak sections. Accordingly, you will have to focus more on your weak areas. Secondly, by looking at the previous cut-offs, you will get a rough idea of how much you need to score in each section. From these two inputs, you should decide the following three things:
The order in which you will be attempting the different sections of the exam.

The time you will be spending on each section.

The number of questions you will be attempting in each section.
My sequence of attempting and section-wise targets were as follows:
English: Target 25 in 18 -20 minutes.
General Awareness: Attempt 65-70 questions in 20 minutes with high accuracy. Don't panic or attempt wrong if you don't know some questions. You have room to leave 10-15 questions.
Quantitative Aptitude: Target at least 15 correct in 25-30 minutes. After doing 15 correct moves to the next section & if time permits come back to do 3-4 more correct questions.
Reasoning: Min 35 questions if you attempt all correct. Otherwise 40 with high accuracy in 45-50 minutes.
Now once you are done with deciding the above three targets for yourself, you need to start with the preparation.
There are two parts to preparation:
1. Acquiring Knowledge and skills
1.a & 1.b Quantitative Aptitude (QA) & Reasoning
To know questions from what topics in Quant and LR are asked in the exam. My reference for this was the following list of topics I found on the internet:
Topics for QA:
Data interpretation (percentage, ratio, fractions, Venn diagram)

Permutation, combination, probability

Pipes, Trains, Boats, Race

Profit, Loss, Discount

Averages

Mixtures, Alligations

SI, CI – (do not invest too much time on CI questions as they involve long calculations)

AP, GP, HP

Linear & quadratic equations

Geometry – area & volume

Series completion & find the wrong one in the series – Leave 'find the wrong one' if they take time.

Time & work
Topics for Reasoning:
Statement and conclusion (syllogism, which conclusion is true)

Statement and conclusion (based on inequalities, mathematical equations)

Statement and conclusion (which conclusion is true)

Sitting arrangement (circular, row, building floor) – These are the tough ones. My approach was to attempt them at the last once I have gone through the rest of the questions in the reasoning section.

Input-output machine – Practice a lot. It will help in recognizing patterns quickly. Target full marks in such questions.

Statement and inference

Statement and assumption

Blood relations

Data sufficiency (can you answer the question with one, two or three statements)

Name-place-colour-thing mapping – Again time-consuming. Should be attempted at last.

Direction test

Series completion – pictures
Prepare topic wise quick problem-solving tips and tricks and practice a lot of questions of each topic. You can refer to popular websites and YouTube videos for practising assorted topics. Make short notes of tips and tricks which you think you might forget.
1.c General Awareness:
This part is highly factual and you need to cover questions related to the banking sector. Those preparing for civils tend to ignore this part, assuming that they know enough about current affairs which are very risky as the kind of facts asked in this exam are very different from the civil services exam. You will clear the cutoff but it is highly likely that you fail to score well. So, keep in mind that scoring high in this section assures you that you clear the overall cutoff even if you are marginally above the cutoff in comparatively tougher sections of Quant and Reasoning.
It is for this reason that I would recommend going through at least the previous 6 months current affairs notes/capsules available on banking examination related websites. The factual nature of current affairs makes them very confusing, so make sure you revise them plenty of times. This will make sure that you score above average in this section.
1.d English:
If you are a regular reader of a newspaper, your knowledge of English will be more than enough for this section. The scoring in this section will depend more upon how much you practice as the options in this section is very confusing. However, you can work on your vocabulary and learn new words daily to increase your confidence level and thus the chances of scoring high in this section. But the key will be practice. Especially you need to practice the questions of arranging the sentences in order so that it makes a meaningful passage.
Again, keep in mind that this is the section that will help you clear the overall cut-off. So, your aim should be to maximize your score in this section.
---
2. Implementation/ Putting your knowledge into practice
Once you have learned the basics of each section and the tips and tricks for QA and LR, it is time to implement your strategy by practising as many questions as possible. To start with, solve a few random questions of all sections from the question banks. You can also practice a few reasoning questions from the book – A modern approach to Verbal & Non-Verbal Reasoning by RS if you have time, though I did not do it.
But the most crucial step in preparation for Phase I will be practising mock tests. I opted for Oliveboard mocks for phase 1. I particularly like the kind of analysis they provide regarding your attempt and scoring pattern after each mock test. Initially, it would be difficult to adhere to time limits decided by you for each section as you might not be able to solve the target number of questions. But don't worry, as you keep practising you will achieve the desired accuracy. For this, you must attempt at least 10-15 mock tests before appearing for phase 1.
Note:
A very important factor that decides your marks in Phase I is your decision to leave a question if it takes a long time to solve. Many times the question will be very simple but involve long calculations. It is better to skip such a question at the first instance and come back to them if time permits rather than clinging onto it thinking 'how can I not attempt such a simple question. Remember that apart from the subject knowledge, your time management skills play a key role in the Phase I paper.
This planning worked well for me and I could clear Phase 1 with flying colours. I am sharing my mark sheet along with my section-wise attempt for your reference.
---
II.

MY FINAL SCORES
1.

My attempt in Paper 1 was as follows:
GA – 51

Reasoning – 35

English – 30

QA – 14
2.

My marks in Paper 1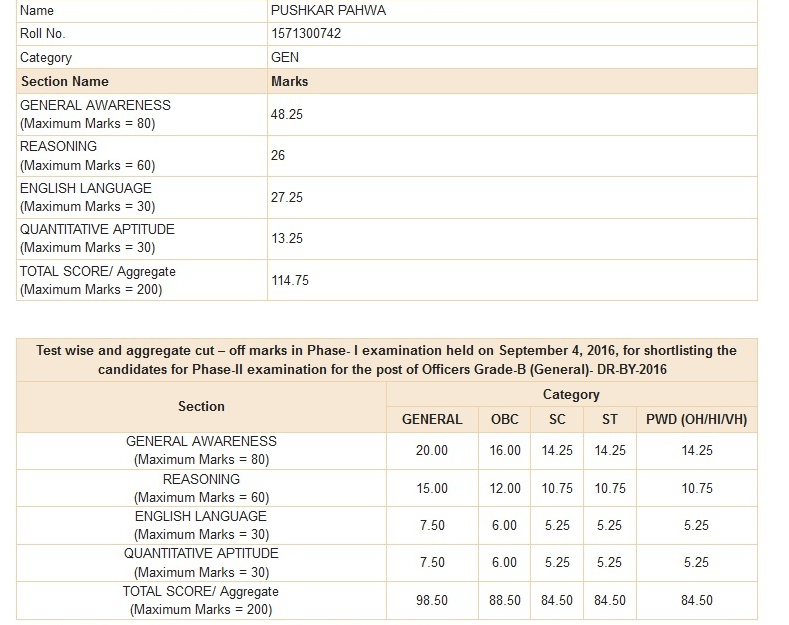 ---
III.

Few Important Points for all the Aspirants
I would like to clarify that each year, candidates from diverse backgrounds crack this examination. It includes Chartered Accountants, finance students from renowned institutions, civil services aspirants, professionals already working in government as well as private financial institutions/ banks, those working in the corporate sector/ IT, journalists, and fresh graduates to name a few. So, do not, at any stage of the examination, consider yourself as an underdog. You have equal chances of getting selected as any other candidate has.
While going through this document, multiple times you may feel that I have stated the obvious. But believe me, there is an enormous difference between 'knowing the obvious' and 'doing the obvious'. It is very few of us who not only 'know' but also 'do' the obvious and that is what makes the difference.
The moment you decide to write the RBI Gr B exam, make sure you join the RBI Gr B preparation threads on various online forums and the 'RBI Gr B exam guidance' Facebook page. These will prove to be an important source of information and discussion throughout the preparation.
I would also advise you to dig the internet for a couple of strategies to crack this examination before you start your preparation because smart work is as important as hard work in cracking this examination. However, you should always remember that while these strategies worked for different aspirants at different times, you should not follow them blindly. Read 2-3 strategies and on their basis, formulate your strategy as per your strengths and weaknesses.
Wish you all the best!
---
RBI Grade B Crash Course 2022 by Oliveboard
If you are someone who is aiming to crack RBI Grade B Exam and are confused about how to go about the preparation, Oliveboard has come up with RBI Grade B Online Crash Course to help you ace the RBI Grade B exam for sincere aspirants. Read below what is included in the Course.
Oliveboard offers the best RBI Grade B Online Coaching that can help you prepare comprehensively for the exam. Oliveboard's RBI Grade B Online Crash Course 2022 will be your one-stop destination for all your preparation needs.
Go through free RBI Grade B study materials PDFs and take up RBI Grade B Free mock tests online.
1. Course Details
RBI Grade B Cracker is designed to cover the complete syllabus for the 3 most important subjects: GA for Phase 1 and Objective + Descriptive portions of ESI + F&M for Phase 2 exam.
Not just that, it also includes Mock Tests & Live Strategy Sessions for English, Quant & Reasoning for Phase 1. The course aims to complete your preparation in time for the release of the official notification.
1.1. Features:
RBI Grade B 2022 Cracker Course Offerings:
ESI & FM Revision Sheets

100+ LIVE Revision Classes

Phase-I CA Capsules (RBI BOLT)

ESI & FM Videos + Notes + 75+ Topic Tests

Phase-II CA Capsules + Desc. Eng Prep

40 Obj. Mock Tests (Ph-I & II)

10 Descriptive Mock Tests with Evaluation

Descriptive Model Q&A
---
1.2. How to Enroll for the RBI Grade B Online Course 2022?
Sign up or log in using the link given below. You will be redirected to the payments page. Read the course offerings and subscribe to RBI Grade B 2022 Cracker Course.
Now that you are aware of the RBI Grade B Online Classes, why wait?
Get Started with RBI Grade B 2022 Online Crash Course comprising LIVE Classes, Video Lessons, Detailed Study Notes & All-India Mock Tests for Phase 1 & Phase 2.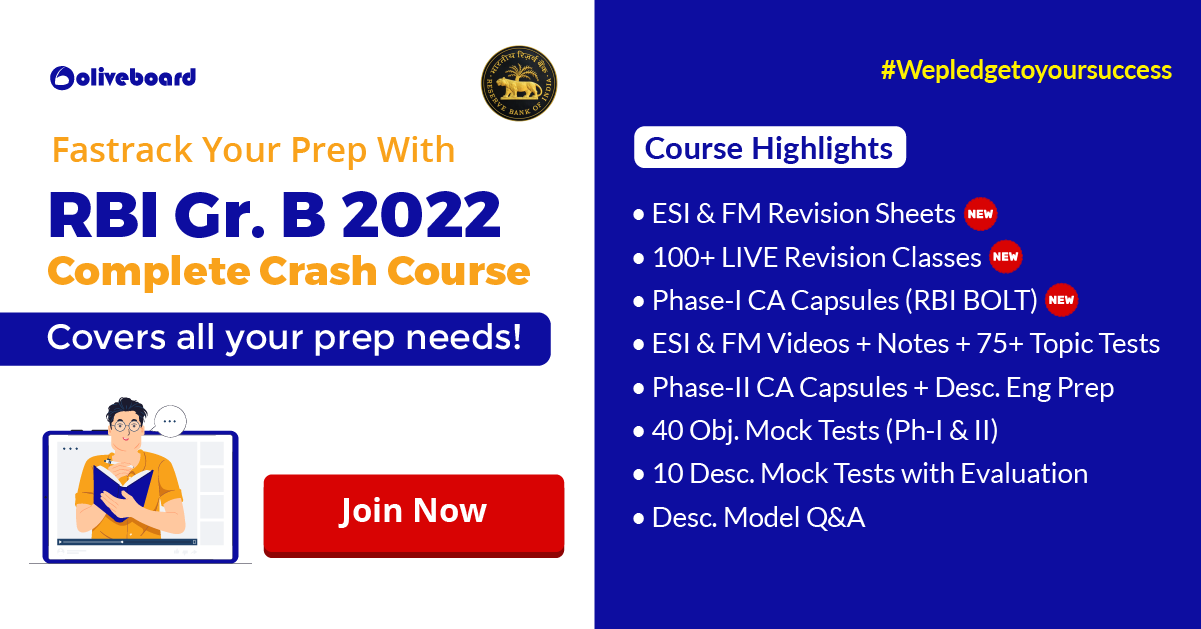 Use Coupon Code 'LAUNCH' & Get 30% off on RBI Courses
---
Connect with us on

The most comprehensive online preparation portal for MBA, Banking and Government exams. Explore a range of mock tests and study material at www.oliveboard.in