Chachar Silchar center was not able to conduct both the ABM and BFM papers for the IIBF CAIIB exam due to heavy rainfall. The exams are now rescheduled for this center and the CAIIB rescheduled exam dates are announced along with JAIIB rescheduled exam dates. Check out the CAIIB rescheduled exam dates below
Attempt A Free Mock CAIIB Mock Test!
CAIIB Rescheduled Exam – ABM and BFM
CAIIB June cycle was scheduled on 26th June, 3rd and 9th July 2022. But due to heavy rainfall the exam could not be conducted in Chachar Silchar. Both ABM and BFM paper was not conducted in this center. The exam is now scheduled on 23rd July and 24th July 2022, the admit card will be available before 4 days of the exam. 
Check the official notification below
Further, due to heavy rainfall, CAIIB examination 'Advance Bank Management 'scheduled on 26th June 2022  & 'Bank Financial Management 'scheduled on 3rd July 2022 could not be conducted at Chachar Silchar Centre. For such affected candidates , the examination has been re-scheduled as below:
| | | | | |
| --- | --- | --- | --- | --- |
| Centre | Batch | Count | Exam Name | Re-exam Date |
| CHACHAR SILCHAR | All Batches | 70 | Advance Bank Management | 23rd July, 2022 |
| CHACHAR SILCHAR | All Batches | 70 | Bank Financial Management | 24th July, 2022 |
Admit letters will be available 4 days before the scheduled date of the examination.
Attempt A Free Mock CAIIB Mock Test!
CAIIB Rescheduled Exam Shift Timings
CAIIB Rescheduled Exam: Unlike general CAIIB exam, there are three shifts for CAIIB rescheduled Exam. Exam starts on Shift 1 at 8.30, Shift 2 – 11.15 and shift 3 – 2.00, other timings of each shift is mentioned below in the table.
| | | | |
| --- | --- | --- | --- |
| Activities | Shift 1 | Shift 2 | Shift 3 |
| Reporting Time | 8.00 | 10.45 | 1.30 |
| Entry to the Lab | 8.00-8.15 | 10.45-11.00 | 1.30-1.45 |
| Gate Closing | 8.15 | 11.00 | 1.45 |
| Login for Sample Test | 8.20 | 11.05 | 1.50 |
| Exam Start Time | 8.30 | 11.15 | 2.00 |
| Exam End Time | 10.30 | 1.15 | 4.00 |
CAIIB Exam Pattern
The examination pattern for the CAIIB Exam as set by the Institute is given below:
| Papers | No. of Questions | Marks |
| --- | --- | --- |
| Advanced Bank Management | 100 | 100 |
| Bank Financial Management | 100 | 100 |
| Elective Paper | 100 | 100 |
| Total | 300 | 300 |
The CAIIB Examination is an objective type Multiple Choice Questions (MCQs) test.
The medium of examination is Hindi and English.
The Institute will conduct the examination in online mode only.
The total number of questions is 100 for each paper.
Each question carries 1 mark.
The total marks for each paper are 100 marks.
Negative marking is not applicable.
The duration of the examination is 2 hours (120 minutes).
Attempt A Free Mock CAIIB Mock Test!
Important Instructions to the candidates
Guidelines to be followed by the candidates during the CAIIB Rescheduled Exam under COVID-19 environment.
As a precautionary measure for COVID-19, candidates should reach the centre before the reporting time mentioned in the admit card to avoid any crowding at the centre at the time of entry and to maintain social distancing.
Candidates should bring the printed admit card along with valid photo identity proof, and duly completed Self Declaration Form given in Annexure – A.
Candidates must maintain social distancing & wear mask starting from point of entry in the exam venue till the candidates exit from the exam venue. Candidates must follow the guidelines issued by Ministry of Health & family Welfare, Govt of India time to time for Covid-19.
Temperature of the candidates will be checked at the entry of exam venue via Thermal Gun.
Candidates having High Temperature will not be allowed entry into the exam venue
Candidates will be frisked by a Handheld Metal Detector without touching the body.
Candidates need to maintain a space of at least 01 meter from each other at all the time after reporting to exam venue and make use of Hand sanitizers and/or Hand Wash made available at the venue during the entire exam process and follow the instructions provided by centre staff.
Do not bring prohibited items (electronic gadget, mobile phone, scientific/financial calculator, metal instrument or any other unauthorized devices etc) to exam centre as there are no arrangements available for safe keeping your belongings.
Please bring duly filled self-declaration form and this should be submitted to the invigilator.
Candidates are advised to use stairs instead of lifts to avoid any risk of contact at the Examination
Candidates would not be provided with blank A4 size sheets for rough work to avoid any risk due to contact with an infected person and the candidates may use the online rough sheet to do any rough work/ calculations during the examination.
Candidates would not be provided any hard copy Scorecard printout at the exam venue after the examination. The scorecard will be emailed to the candidate's email ID in 3 / 4 working days from the exam date.
After completion of the exam, candidates must not leave their seats without the permission of the invigilator/centre staff. They must wait for instructions.
Candidates are required to co-operate with the examination conducting authorities for conducting the examination smoothly under COVID-19 environment.
DOWNLOAD THE OLIVEBOARD APP FOR ON-THE-GO EXAM PREPARATION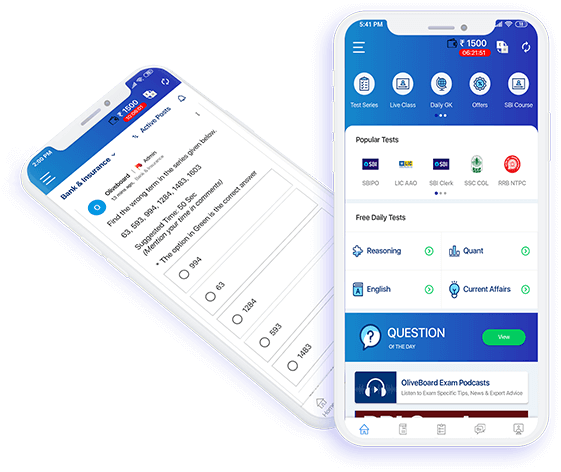 Video Lessons, Textual Lessons & Notes
Topic Tests covering all topics with detailed solutions
Sectional Tests for QA, DI, EL, LR
All India Mock Tests for performance analysis and all India percentile
General Knowledge (GK) Tests
Free videos, free mock tests, and free GK tests to evaluate course content before signing up!

Oliveboard is a learning & practice platform for premier entrance exams. We have helped over 1 crore users since 2012 with their Bank, SSC, Railways, Insurance, Teaching and other competitive Exams preparation.