IBPS (Institute of Banking Personnel Selection) has announced 1417 vacancies for the post of Probationary Officers/Management Trainees. The preliminary exam for the same is scheduled on 3, 10 and 11 October 2020. This article takes you through IBPS PO preparation strategy, which will help you ace the exam.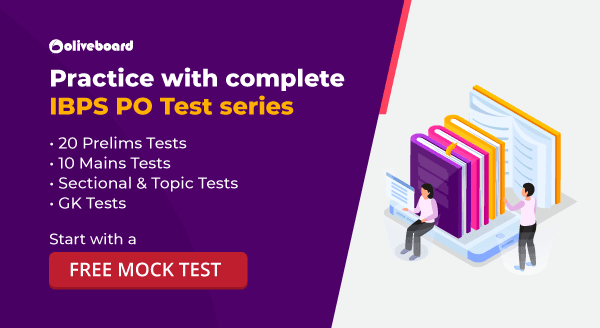 View the official notification and apply here.
Attempt a free mock test here.
Structure of the Prelims exam:
It is very important for you to understand the structure of the exam to be able to begin your IBPS PO Preparation. The IBPS PO Prelims will have 3 sections, namely English Language, Quantitative Aptitude and Reasoning Ability. Refer to the table below for a detailed outlook:
| Section | Number of Questions | Time Allotted for each section |
| --- | --- | --- |
| English Language | 30 | 20   minutes |
| Quantitative Aptitude | 35 | 20   minutes |
| Reasoning Ability | 35 | 20   minutes |
*For every correct answer, you will fetch you one mark (+1) and for every incorrect answer .025 will be deducted from the total score.
Click here for the detailed Syllabus of IBPS PO Prelims.
IBPS PO Preparation Strategy:
In order to help you ace the exam, we have come up with live courses on our online learning platform: Oliveboard Edge.  Now, let us go through the detailed IBPS PO Preparation strategy which will help you sail through the exam.
Preparation Strategy for English Language Section:
In order to ace the English section, focus on your reading and comprehension ability. Firstly, develop a reading habit. This will help you in multiple ways: it will help improve your reading speed as well as comprehension and it will add tremendously to your vocabulary. Furthermore, you will get used to grammatical and sentence structures. You can read the editorial sections of newspapers like The Hindu, The Economist, The Indian Express, etc.
Secondly, Grammar and Vocab are essential to ace the English section. Develop a habit of learning new words, their meanings and their usage in sentences. Grammar comes in handy while attempting questions based on topics like error spotting, fill in the blanks, cloze test, etc. Therefore, you must go through the grammar rules, thoroughly to score well in the English section.
Attempt English section in a mock test.
Preparation Strategy for Quantitative Aptitude Section:
You must be well versed with the concepts of topics like Percentages and Average, Time and Work, Profit and Loss, etc. To attempt a decent number of questions, you'll require a good calculation speed. For this you must memorize multiplication tables till 30 and Squares and Cubes of natural numbers. Subsequently, practice topics like simplification, quadratic equations and number series to improve your calculation speed. Another significant aspect of Quantitative Aptitude section is Data Interpretation. As the name suggests, you will be required to interpret data (presented in the form of tables or graphs or pie charts or paragraphs) and answer the questions as directed. Start from basics and gradually move on to high level DI, to build up proficiency in this section.
Attempt Quantitative Aptitude in a mock test.
Preparation Strategy for Reasoning Ability Section:
Reasoning ability covers a number of topics like Syllogism, Blood Relation, Coding-Decoding, Arrangement based, etc. Make sure that you are well versed with the basic concepts of these topics and then move on to developing tricks and shortcuts for specific question types. Practice as many questions as possible. Subsequently, switch to time-bound practice once you are comfortable with the basic concepts. Gradually, attempt higher difficulty level questions to ace the section
Attempt Reasoning Ability in a mock test.
Additional tips to keep in mind while IBPS PO Preparation:
Read newspapers regularly to stay updated with the latest GK. Furthermore, you can download our free Monthly GK Magazine, BOLT which covers detailed monthly current events .
Additionally, we have come up with topic tests and full-length mock tests to assist you through your preparation journey.
Further, you must download our Ebooks for various topics that are specially curated by experts.
Lastly, you must refer to previous year question papers to get used to the level and pattern of the exam.
Keep the points mentioned above in mind while preparing your study plan for IBPS PO 2020. You must practice diligently and consistently improve your weaker areas. For more details associated with IBPS PO, like study plan and study material, stay connected with Oliveboard.
Free mock tests to assist your preparation