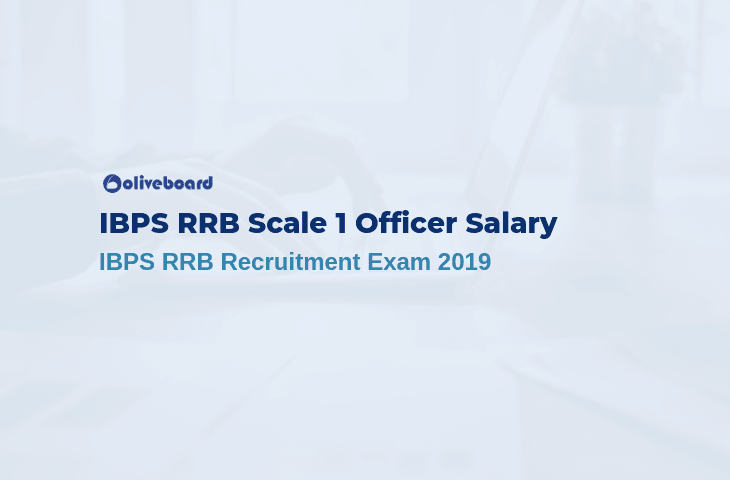 Institute of Banking Personnel Selection (IBPS) had announced a total of 3382 Vacancies for the post of Probationary Officers (Scale 1 Officers) for Regional Rural Banks under its annual IBPS RRB Recruitment Notifications 2019. IBPS RRB 2019 Examination will be held for both IBPS Officer Scale I (PO), Scale 2, Scale 3 as well as Office Assistant posts. The registrations for the same are ongoing and eligible candidates can apply for Officers and Assistant Posts using the link given below till 4th of July 2019. The Preliminary Exam is scheduled in August 2019. Aspirants are always keen about the Pay-Scale, In-hand Salary, Perks & Allowances that the post offers them. Salary is one of the major motivation factor for Government job aspirants. Therefore, in this article we will enlighten you all about IBPS RRB Officer Scale 1 Salary. 
 Take a Free Oliveboard RRB Scale I Officer Mock Test
IBPS RRB Officer Scale 1 Salary
The Pay-scale for

IBPS RRB Officer Scale 1 is 14500-600/7-18700-700/2-20100-800/7-25700.
The In-hand Salary at present varies from Rs.29,000 – 33,000 at 100% D.A.
After the selection of the candidate for the post of Officer Scale-I, he/she will need to undergo training for 2 years under the probationary period. During the probationary period, the candidate will receive a fixed amount that is usually less than the normal pay scale.

After completion of the probationary period, the candidates will be promoted to Assistant Manager post.
Take a Free Oliveboard RRB Scale I Officer Mock Test
Perks and allowances of IBPS RRB Officer Scale 1 post
Apart from the basic pay, the officers are entitled to the following allowances and perks:
Dearness Allowance 
Special Allowance 
House Rent Allowance / Leased Accommodation
Conveyance Allowance
Furniture Allowance
Household Cleaning Expenses
Leave Encashment
Leave Travel Concession
Medical Reimbursement
National Pension Scheme
Newspaper Allowance
Travelling Allowance
The benefits of IBPS PO RRB Officer Scale-I (PO) post are numerous. Stress and work pressure are relatively less in comparison to commercial banks. Employees have a good work-life balance. The cost of living is low since employees get posted in rural areas. Employees are eligible for 100% D.A. Employees can be deputed to other departments in Govt. sector under exchange programs.
We hope that you like the content provided in this blog "IBPS RRB Officer Scale 1 Salary". Some important articles have been given below for your reference. Go through them and we assure that you would surely benefit from them.
IBPS RRB PO (Scale 1 Officers) Apply Online Link
IBPS RRB Online Application Form is available now. Candidates can click on the link provided below to fill it:
Click Here to Apply Online
Also Read:
IBPS RRB Online Course Details:
Full Syllabus + Day-wise Study Plan

Covers Prelims & Mains

Top Faculty

 for each section
 20 Prelims + 10 Mains for IBPS RRB Officer Scale1
20 Prelims + 10 Mains for IBPS RRB Assistant
  Oliveboard Live Courses & Mock Test Series