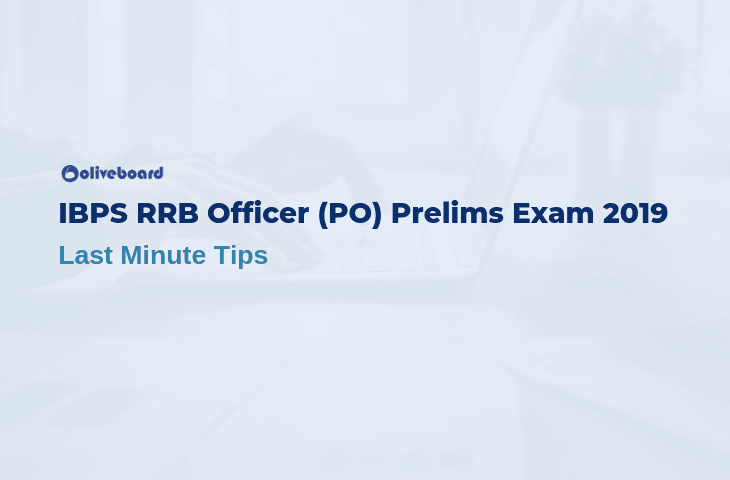 Institute of Banking Personnel Selection will be conducting the Prelims of IBPS RRB PO (Scale 1 Officer) Exam on 4th of August 2019. With just a day left for the Preliminary Exam, it is time to wrap up your preparation and get exam-ready. I hope that the preparations for the prelims are complete and you are ready to take up the real exam. Exam would be easy if you have been true to yourself all while this preparation phase. Having had done with sufficient practice for each of the sections viz. Quantitative Aptitude and Reasoning Ability, & taken a sufficient number of Mock Tests, we can say that studies have been on point for the Exam. Read the article "IBPS RRB PO Last Minute Tips" and get Exam Ready. 
Prelims Exam Pattern – For Officers Scale 1 (PO)
Sr.

No.

Name of Tests

Medium of Exam

No. of Qs.

Maximum Marks

Duration

1

Reasoning

Hindi/English

40

40

Composite time of 45 minutes

2

Quantitative Aptitude

Hindi/English

40

40
Total
80
80
Note: Candidates have to qualify in both the tests by securing minimum cut-off Adequate number of candidates in each category, depending upon requirements, will be shortlisted for Online Main Examination.
IBPS RRB PO Last Minute Tips
1. Calm Yourself Down – Now it is high time that you let go off your anxiety and stress that must have been surrounding you all this while. Let it go and calm yourself. Calmness is crucial for your concentration and memory power and these in turn will stimulate your minds and you would be able to attempt the paper in a better manner. 
2. Trust Yourself – You must have read or heard the quote "Trust yourself, you know more than you think you do". Now this doesn't mean that you become overconfident about your abilities. This would simply mean that you need to inculcate a sense of belief in yourself. This would calm you as well as increase your self confidence which is again of utmost importance when you go to attempt any of the Exams. Believe that you had put in enough effort in your preparations and now it is time to perform and more importantly perform good. 
3. Take Sufficient Amount of sleep – Take atleast an 8 to 9 Hour sleep a night before the Exam. A sound sleep reduces stress, improves your memory, lowers your blood pressure, sets you in better mood. Needless to say these are things that you will need on the Exam day.
4. Do not take up a new topic now – Do not stress yourself and try to master a new topic from the syllabus now. This would really be a bad idea. The better option would be to revise the the Concepts & Short tricks for Quantitative Aptitude & Reasoning Ability now.
5. Gather all Essential Documents – Get a copy or two of your Prelims Admit Card and also get your passport size photographs ready. Take the necessary stationery items like pen, pencil, rubber etc with you. Reach your Exam Center atleast an hour before the Reporting time mentioned in the Call Letter. Running last minute to reach the Exam destination can be disadvantageous. 
This was all from us in this blog of "IBPS RRB PO Last Minute Tips". We hope that you like the content provided above. 
All the Best for the Exam. 
IBPS RRB PO (Scale I) Mock Test Series
Register for a Free Oliveboard RRB PO (Scale 1) Mock Test Below:
Register for a Free Oliveboard RRB PO (Scale 1) Mock Test