"Some people want it to happen, some wish it would happen, and others make it happen."
Your dream of cracking the RBI Grade B exam will come true and we at Oliveboard will make it happen for you. We are constantly striving to provide the best RBI Grade B Online Coaching in India.
Our RBI Grade B Course comprises Foundation Classes, Video Lessons, Study Notes, Mock Tests, Mock Interviews, and much more for your comprehensive RBI Grade B Preparation. In these competitive times when aspirants are super busy with a myriad of things, our RBI Grade B Course will be your all-in-one solution for the problems faced during preparations.
Attempt FREE Scholarship Test for RBI Grade B 2023 from 24th May (12 AM) to 25th May (7 PM), Check the direct link below. Check All India Rankings & Know your preparation level.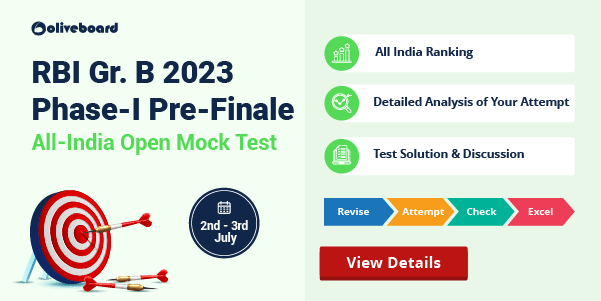 Recently we have launched the 4th RBI Grade B Mentorship Batch which comprises Complete Study Material plus throughout mentorship by a dedicated mentorship.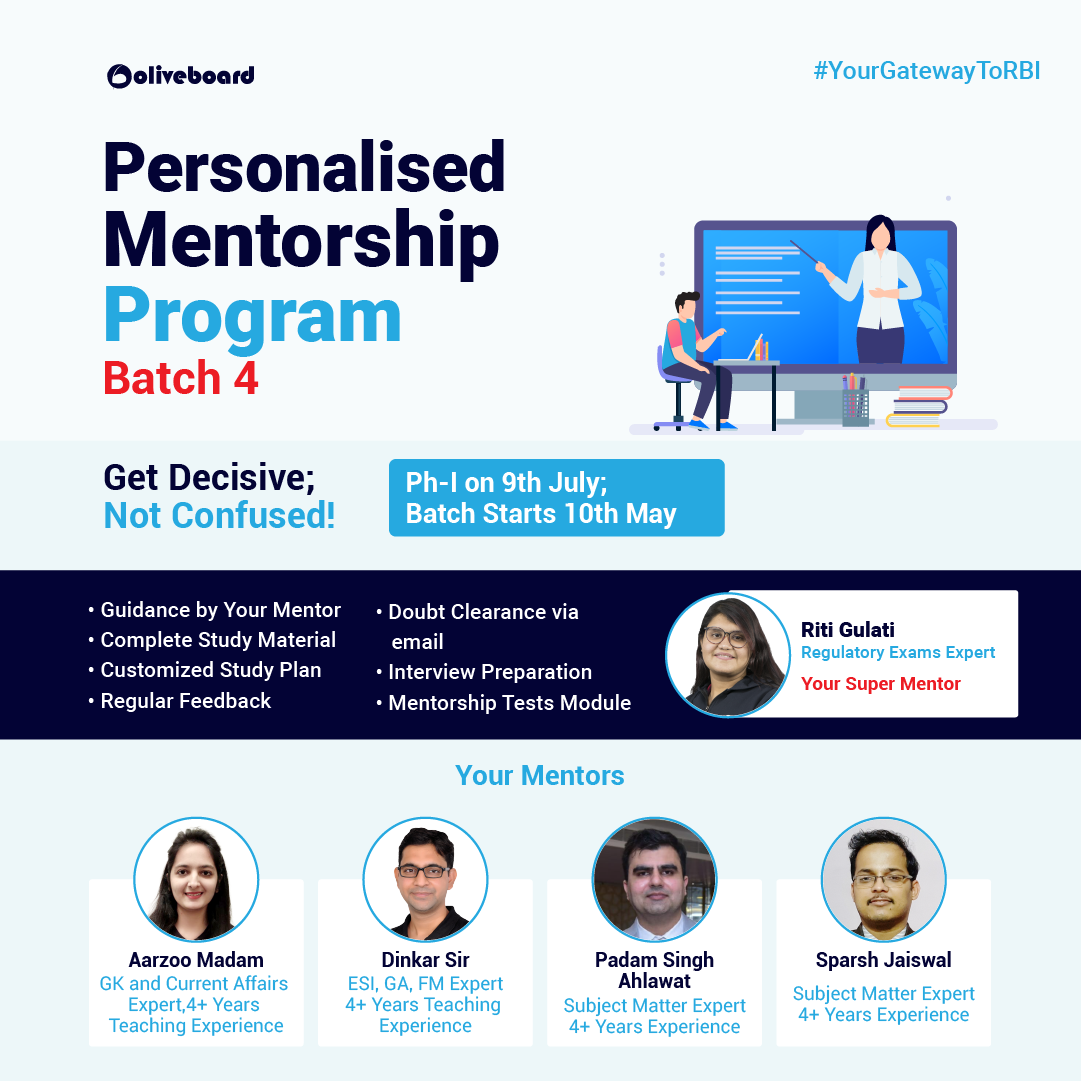 For more information on the mentorship batch of the RBI Grade B Exam, check out the link below.
We have also launched a RBI Grade B Crash Course, the features and details of which can be checked below.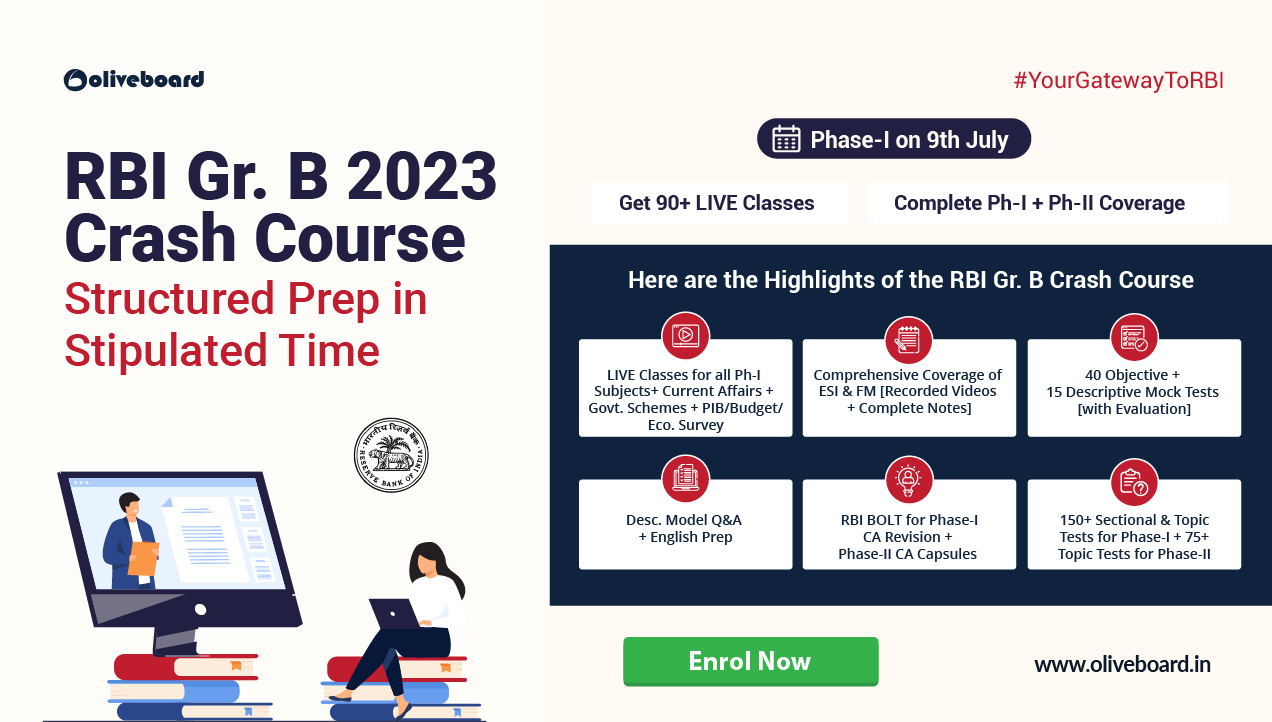 RBI Grade B Course 2023 – Comprehensive Online Coaching
RBI Grade B course is designed to help you comprehensively prepare for the below-mentioned most important aspects of the exams:
General Awareness,
Quants and Reasoning,
Economic & Social Issues (ESI) and Finance & Management (FM)
Descriptive English
Descriptive Answer Writing
Interview
Let's discuss further what is included in our courses to help you cover these parts:
1. General Awareness (GA) Study Material for Phase 1
General Awareness constitutes a whopping 40% of Phase 1 paper. This section can make or break your chances of clearing the Phase 1 exam. The best approach to clear the phase 1 exam is to maximize your marks in the GA section.
Check out How to Score 55+/80 in the General Awareness section
How Do We Help?
RBI Grade B Online Complete plan provides month-wise RBI Bolt specially curated for the Phase 1 exam.
It is a monthly magazine that comprehensively covers all the current affairs relevant to the Phase 1 exam. Additionally, monthly GA quizzes help you retain your current affairs.

After the official notification is announced LIVE revision classes for monthly current affairs revision are also provided.
---
2. Quants & Reasoning
In Quants & Reasoning Foundation Classes you will learn the basic concepts as well as get to practice the exam-level questions with the best in industry faculty.
All the chapters for these two subjects are duly covered providing the most basic explanation.
What else is in store for you
10 Ph 1 Full-Length Mock Tests

Topic + Sectional Tests for Practice
---
3. ESI & FM Study Material for Phase 2 Exam (Objective + Descriptive)
One needs to cover the static portion as well as current affairs related to the economic & social issues and Finance & Management to be able to get a good score in this paper. In addition to this, one should also practice descriptive answer writing.
How Do We Help?
LIVE Foundation Classes to learn and revise the basic concepts

Video lessons to cover all the topics given in the syllabus

Detailed study notes

Monthly current affairs capsules

Monthly capsules for important RBI notifications

Government schemes coverage

Revision sheets for quick revision

75+ Topic Tests

---
4. Descriptive English
Sahil Bhatia our 2019 topper says, "One shouldn't take English descriptive paper for granted. As it turned out, I didn't study this subject since I thought I was quite proficient in the language. I thought I would be able to write essays and letters without practice for the exam. I realized, however, when I took the exam that I should have prepared more thoroughly for this subject. I couldn't manage my time well enough for the exam. It is therefore recommended to list relevant essay writing topics and practice composing them by typing."
This proves that Descriptive English needs to be given equal attention when compared to ESI & FM.

Practice writing essays and precise' so that you are in a habit of writing when in real exams.
How Do We Help?
Notes (fodder material) for Descriptive English Paper (Essay Writing).
Important and latest essay writing topics
LIVE Sessions with English Faculty
---
5. Descriptive Answer Writing
"Aspirants need to learn the art of writing decent answers in order to achieve a good base level of marks in Phase-II papers," says our RBI Grade B 2021 topper Avinash Ravichandran.
"For the descriptive part, I prepared a list of probable questions from the syllabus and framed the answers with 3-4 subheadings and bullet points under each subhead", says our 2021 topper Veerella Ravichandra.
"I subscribed to one of the RBI Grade B courses by Oliveboard. The course offered detailed notes for the preparation of a Descriptive paper. This course helped me in descriptive answer writing a lot. Also, for English essay writing, I referred to the sample essays provided in the course", says our 2022 topper Nikhil Barhate.
With the introduction of Descriptive Paper in the RBI Gr. B exam, it has become crucial for aspirants to prepare and practice for it.
How Do We Help?
Detailed Notes for Ph 2 Subjects (ESI, FM)

Descriptive Q&A (Model Answers) for Ph 2

10 Descriptive Tests for Ph 2 with Expert Evaluation

Descriptive Answer Writing LIVE Lectures
---
6. Interview Preparation
Our interview program is designed for those students who will clear RBI Grade B 2023 Phase-II exam.
How Do You Benefit?
30 Minutes of LIVE Interview Session: Get a one-on-one mock interview over a video call with retired RBI officials who have over 30 years of experience with the prestigious organization.

Personalized Mentoring + Detailed Feedback: After the interview, you will receive detailed feedback from the panel members.

Special Focus on your DAF + Qs. on Banking, Economics, Finance & Other Key Topics: Mock interview questions will be based on your DAF, recent events, and the fundamental concepts of Banking, Economics, and Finance.
---
Frequently Asked Questions (FAQs) About the Foundation Classes
Question. What do we learn in the foundation LIVE classes?
Answer. There will be 60+ LIVE classes wherein expert faculty members will teach the basics of ESI, Finance & Management for the RBI Grade B 2023 Exam. This way you would have strong fundamentals that will help for Phase 1 GA papers as well as for Phase 2 papers. Your basics would also give you confidence while attending the interview.
Question. How many LIVE classes would be conducted in total?
Answer. There would be a total of 60 LIVE Classes, 20 classes each for the subjects of ESI, Finance and Management.
Question. Who should attend these foundation LIVE classes?
Answer. These classes would be beneficial for any aspirant who is preparing for the upcoming RBI Grade B exam.
Question. I am just a beginner. Will these foundation LIVE classes be helpful for me?
Answer. Yes definitely.
These classes are designed to help the aspirants build their foundation for the RBI Grade B Exam.
In fact, if you are entirely new to this exam and are wondering where to start, this is the right start for you!
Question. Will these foundation LIVE classes be enough for my RBI Grade B exam preparation?
Answer. These classes would help you build your foundation for the RBI Grade B exam. After these 60 LIVE sessions, you will be familiar with the basics that will help you deep-dive into the preparation. There are recorded video lectures, notes, current affairs, topic tests, full-length tests, and descriptive tests to supplement your preparation.
Question. Why should I start preparing now for RBI Grade B 2023?
Answer. Since more than 2 lakh applicants are competing for around 150 to 200 positions, the earlier you start, the better your chances. The initial 3 months of your preparations are going to be very crucial. You need to keep patience and study with a good amount of time in hand. So, this is the ideal time to start your preparations!
Question. I don't think I will be able to attend the classes exactly at the time when they go LIVE, what shall I do?
Answer. No worries. The live sessions once completed are present in your dashboard in the form of a recorded lecture. You can watch it based on your time availability.
Question. When does the foundation batch start?
Answer. The foundation LIVE classes start on 22nd July 2022.
Question. Where can I access the schedule of the foundation LIVE classes?
Answer. You can log in and click on the foundation course to get the schedule of these classes.
Question. How do I enrol for these classes?

Answer. You can log in here to access the payment page to enrol for the RBI Grade B Complete Plan. These foundation LIVE classes are a part of the RBI Grade B complete plan.
---
RBI Grade B Mentorship Program
We have come up with a limited seat (100) RBI Gr. B 2023 Personalized Mentorship Batch wherein you get to prepare under the guidance of an assigned mentor.
Ask yourself these three questions:
Q. Determined to clear the RBI Grade B 2023 Exam but struggling to figure out how to go about it?
Q. Want to understand what went wrong in your earlier attempts at the exam?
Q. Do you feel you can ace the exam but are in need of expert guidance and continued support?
If the answers are affirmative, then this personalised mentorship batch is for you.
Salient Features of the Mentorship Batch
Throughout Guidance from a Dedicated Mentor

Complete Study Material

Customized Study Plan

Interview Preparation

Performance Tracking

Doubt Clearance
---
How Does the Mentorship Help You?
Step 1: Meet your Super Mentor to get guidance on kick-starting your journey. Discuss your concerns, analyze your strengths & weakness, and draw a customized study plan.
Step 2: Meet your dedicated MENTOR! Start your One-on-One Online Sessions twice every month.
Step 3: Avail the Doubt Clearance facility every week. Send a detailed email to your mentor.

Step 4: Connect with your Super Mentor to discuss your progress.

Step 5: After clearing Phase II, get Interview Prep Guidance from the ex-RBI Officials.
The last Date to Register is 30th November 2022.
The Batch Start Date is 15th December 2022.
---
FAQs about the Mentorship Batch
Q. What is this 'Mentorship Program to Crack RBI Grade B 2023 in 6 Months' all about?
A. As part of this Mentorship Program, the students would be given personalized guidance to clear RBI Grade B 2023 Exam. Each Student would be tagged with a specific mentor who will be guiding the students throughout the RBI Grade B 2023 Examination. In this program, the student would be guided at each step and his/her progress would be tracked throughout the preparation process. The mentor would monitor the course completion status, and the scores on the tests and also guide the student regarding their improvement areas.
Q. How will the mentors be assigned?
A. Once the student enrols in the program, there will be an Introduction Session in which we will understand the student's journey so far. Based on the inputs of that session, we will be allocating a MENTOR for the student. We have 4 Mentors, and each mentor will be having 25 students in their group.
Q. Do we get to interact one-on-one with our Mentors?
A. Each month, you will be having 2 One-on-one sessions with your mentor. These will be conducted online using Google Meet. Your Mentor will track your progress, discuss the difficulties you are facing, guide you if you are going in the wrong direction, help you understand where you need to improve and check if you are following a study plan.
Not only this, but you will also be having 3 One-on-One Sessions (during the complete duration of the program) with our Super Mentor who will guide you on your strategy. You can also discuss if you are having problems with following your schedule.
Q. Do we get to ask our doubts only during the One-on-One Session with our mentors?
A. We would be providing you with the e-mail ID of your mentor. You can send all your doubts in one e-mail every week.
Q. Do we need to buy RBI Grade B 2023 Complete Plan separately to access the Notes, Videos, Live Classes, Current Affairs, Topic Tests, and Foundation Classes for RBI Grade B Preparations?
A. No. Along with this, you would be getting access to the 'Complete RBI Grade B 2023 Plan' as a bonus. This will help you to get all the resources in one place. The only thing that we require from your end is your DEDICATION & TIME.
Q. When will this program start?
A. The Mentorship Program starts on 15th December 2022. Registration closes on 30th November 2022.
Q. How many seats are there in this program?
A. We have a total of 100 Seats. The Seats would be filled on a first come first serve basis.
Q. How do I know if I am suitable for this Mentorship Program?
A. This is the Right Course for you if you are:
Serious RBI Grade B Aspirant looking out for a step-by-step guide or
Someone who feels you have the potential to make it but want continuous guidance or
Someone who has been giving RBI Grade B Exam previously but is not able to figure out why you are not able to make it or
Going to give RBI Grade B for the first time in 2023 and are concentrating ONLY on this exam.
This is NOT the Right Course for you if you:
Do not have at least 3 hours to invest on a daily basis or
If you are preparing for multiple exams and the RBI Grade B exam is not your priority or
If you are going to appear for the RBI Grade B exam in 2023 just for practice and are planning to then go for it again the next year.
Q. Is the Interview Preparation also involved in this RBI Grade B Mentorship Program?
A. Yes. Once you clear RBI Grade B 2023 Phase 2, we will start guiding you in Interview Preparation. As part of this, we will be conducting sessions on Current Affairs, and 2 One-on-One Mock Interviews by retired RBI Grade B Officials. Our panel members have retired from GM and CGM positions in RBI and have been part of the recruitment boards themselves. They have trained 150+ candidates for Interviews in the year 2022 and 100+ candidates in 2021.
Q. Who are our Mentors and Super mentors?
A. We have assigned our best faculty members and best Subject Matter Experts as your Mentors. These experts know in and out regarding what needs to be prepared for the examination.
Why do few students clear the exam, and many don't?
Those who clear the exam – know what to study and what not to study. Our mentors will guide you regarding this difference and help you at each step. Each one of these mentors has 4+ years of experience in this field. We have mentors who were earlier in the govt jobs, have qualified for various stages of exams themselves, have curated exceptional course modules for exams, and have trained 500+ students for various exams.
Your Super Mentor would be Riti Mam. She will be guiding each one of you by helping you strategize your preparation. She has 5+ Years of experience in guiding students for exams like RBI Grade B, SEBI Grade A & NABARD Grade A. 250+ Students have cleared the RBI Grade B exam under her guidance.
Q. What is a Study Group and how will it help us?
A. We will be creating a Telegram Group of all the students who have enrolled on this program. This will allow the students to interact with their batch mates and discuss preparation-related points.
---
DOWNLOAD THE RBI, NABARD, SEBI Prep App FOR ON-THE-GO EXAM PREPARATION
The app provides comprehensive study material in form of online courses to ace these examinations.
The study material ranges from online LIVE classes, video lectures, study notes, revision sessions, past year papers, topic tests, the objective plus descriptive mock tests, mock interviews and much more.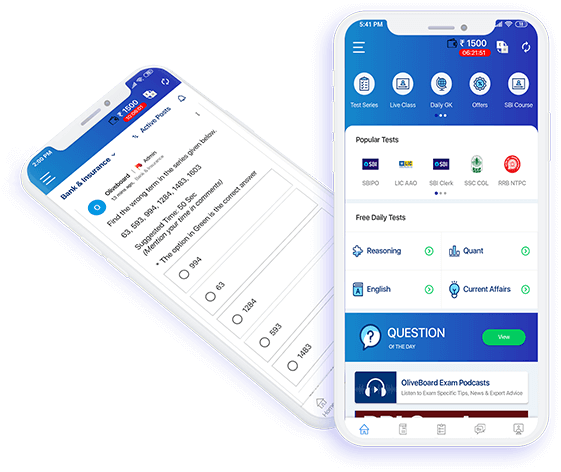 List of Exams
1) RBI Grade B Generalist Posts
2) SEBI Grade A Generalist Posts
3) NABARD Grade A Generalist Posts
4) NABARD Grade A IT Officer Posts
5) NABARD Grade A Agriculture Officer Posts
6) NABARD Grade B Posts
7) SIDBI Grade A Officer Posts
8) FSSAI Recruitment – For Technical officers, Food Safety Officers and Assistants
Get free video lessons, mock tests and GK tests to evaluate course content before signing up!

---
FAQs
Q. 1. Which online coaching is best for RBI Grade B?
The best online coaching for the RBI Grade B exam would be the one that would cater to all your preparation needs right from the Phase 1 sections of Quants, Reasoning, English & GA to Phase 2 subjects of ESI, FM and descriptive English.
The coaching should help you know what is to be studied and more importantly what is not to be studied so that you could save on your precious time.
This should cover the basics as well as help you revise these. And guess what Oliveboard's RBI Grade B online coaching would do all these and much more for you.
Take a look at the course highlights here:
60+ Foundation LIVE Classes
Phase1 CA Capsules (RBI BOLT)
ESI & FM Videos + Study Notes
Phase 2 CA Capsules
40 Objective Mock Tests (Phase 1 & Phase 2)
10 Descriptive Mock Tests with Evaluation
Descriptive Model Q&A
Will add ESI & FM Revision notes
75+ ESI & FM Topic Tests
Descriptive English Preparation Material
Free Mock Tests on our Platform
RBI Grade B Phase 1 Free Mock Test
RBI Grade B ESI Free Mock Test
RBI Grade B FM Free Mock Test
10 RBI Grade B Past Year Paper Mock Tests
6 RBI Grade B Phase 2 Topic Tests for ESI & FM
100 Free RBI Grade B Phase 2 Descriptive Tests
---
Q.2. Which is the best online course for the RBI Grade B exam?
The online preparation course must be as comprehensive as possible so that all the relevant study material for every phase and section of the exam is in one place.
It should not just help you learn but also enable you to revise what you already know.
Also, now the RBI Gr. B 2022 notification is out, to fast-track your preparation, we have completely revamped our complete course to accommodate the 100+ LIVE revision classes. These will help you brush up on ESI and FM basics. As part of the LIVE class schedule, current affairs were also revised for the Phase-I exam.
Take a look at the course highlights here:
60+ Foundation LIVE Classes
Phase1 CA Capsules (RBI BOLT)
ESI & FM Videos + Study Notes
Phase 2 CA Capsules
40 Objective Mock Tests (Phase 1 & Phase 2)
10 Descriptive Mock Tests with Evaluation
Descriptive Model Q&A
Will add ESI & FM Revision notes
75+ ESI & FM Topic Tests
Descriptive English Preparation Material
Free Mock Tests on our Platform
RBI Grade B Phase 1 Free Mock Test
RBI Grade B ESI Free Mock Test
RBI Grade B FM Free Mock Test
10 RBI Grade B Past Year Paper Mock Tests
6 RBI Grade B Phase 2 Topic Tests for ESI & FM
100 Free RBI Grade B Phase 2 Descriptive Tests
---
Why Choose RBI Grade B Online Coaching?
1. Comprehensive pedagogy
RBI Grade B online coaching classes for both Prelims and Mains aim to clear your build-up of your basic fundamentals of each topic covering the detailed syllabus for Phase 2 and strategy sessions for Phase 1.
2. You can learn anytime, anywhere
RBI Grade B online coaching classes are flexible and easy to keep track of. You can learn on the go. You can avail yourself of multiple online classes by experts. Collaborate with the online faculty and get your doubts cleared.
3. Enhance your GK
There would be Weekly Live Classes for General Awareness available online that will help you with all the GA preparation that accounts for 80 marks in the Phase 1 paper.
4. Test yourself
RBI Grade B online coaching classes are backed by RBI Grade B online mock tests for both Phase 1 & Phase 2 so that you can practice and test what you learn. The mock tests follow the pattern of the actual exam so that you are well acquainted with the paper pattern.
5. Easy access to study materials
You would get complete study material for Phase 2 papers of ESI & FM as well as English Descriptive classes to strengthen your fundamentals.
---
How to Enrol for the RBI Grade B Online Course 202

3?
Use this direct link given below to subscribe to the RBI Grade B course for your exam preparation.
This was all from us in this blog RBI Grade B Online Course for RBI Grade B 2023 Exam. You can enroll for the course now using the link given above. Do not miss this opportunity as this is the best trade-off between quality and price.
---
Connect with us on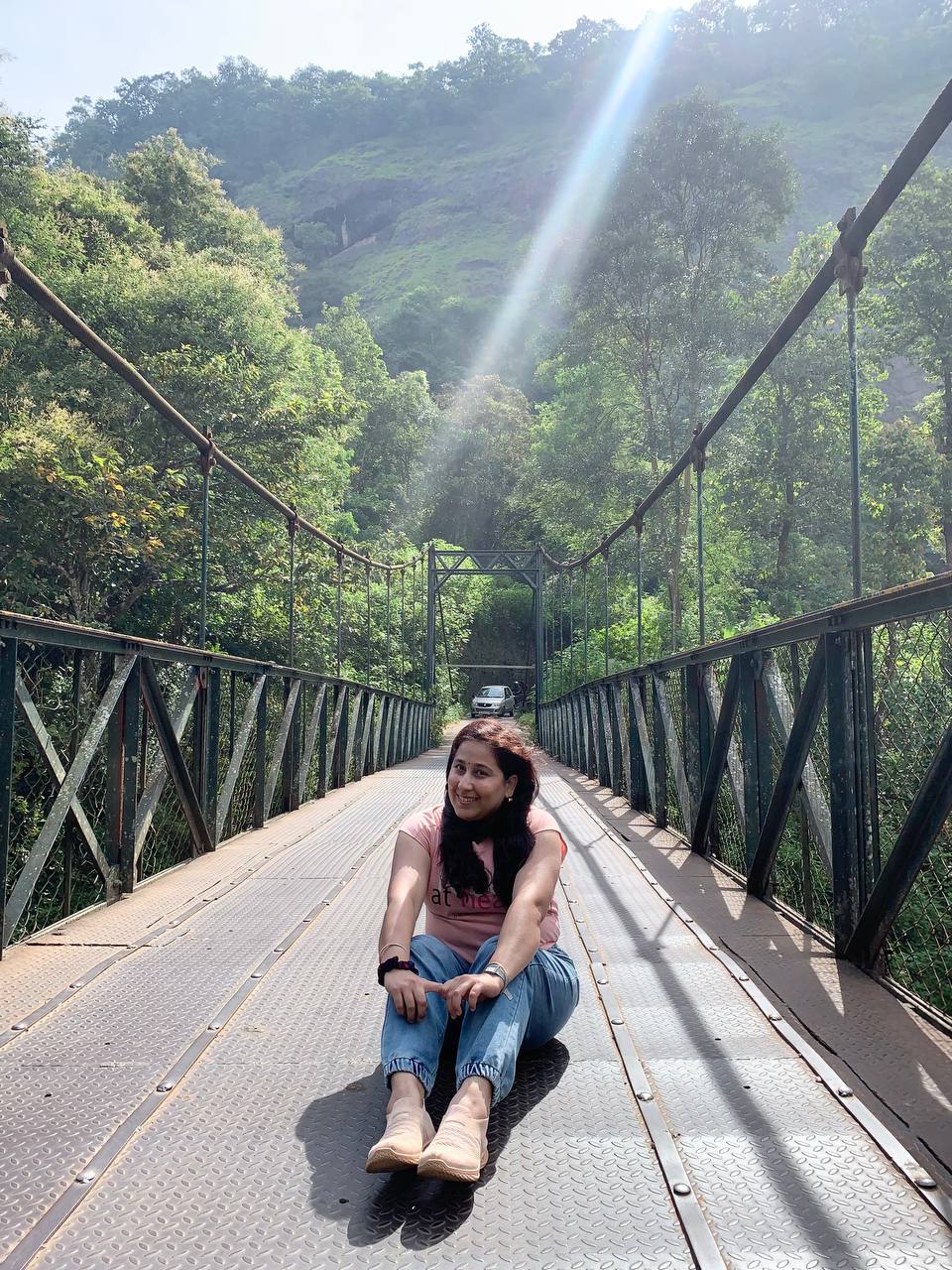 I enjoy creating SEO-friendly, information-rich marketing content. Cooking is therapeutic! I like to cook and eat it too!
  Oliveboard Live Courses & Mock Test Series