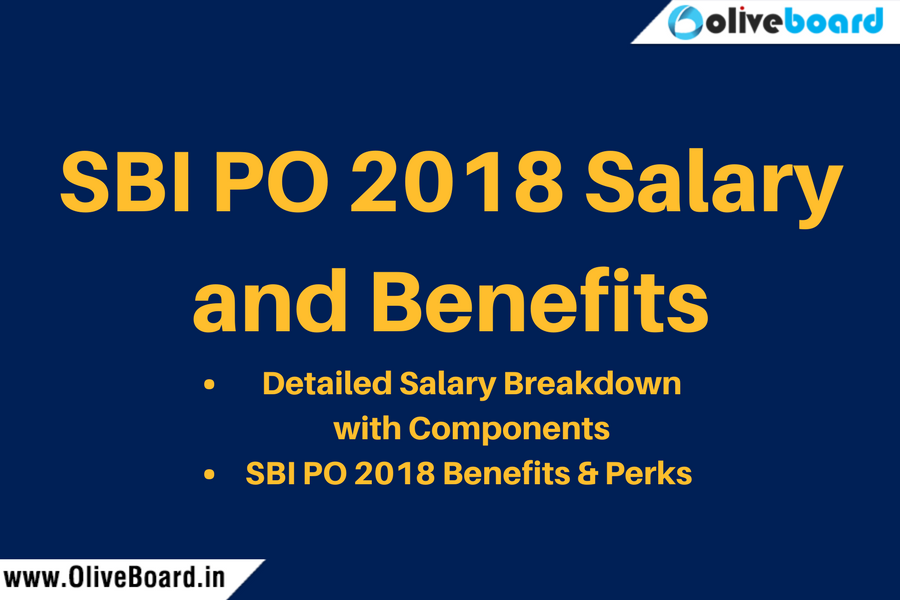 Becoming a Probationary Officer (PO) at State Bank of India is a dream come true for most in the country, and for good reason. SBI is one of the most generous employers that takes the best care of its employees. In addition to the social stability of a PSB job, a job at SBI also ensures financial security and guaranteed professional development. With the combination of those factors, it's for certain that the SBI PO recruitment is a golden opportunity for many to shape their career in banking in the best way possible. Hence, to motivate you to study and push yourself further, we have compiled an article that details the compensation and benefits provided to PO position. We are sure that the SBI PO 2018 salary and benefits will be quite a motivating factor for you to step up your preparation efforts for the SBI PO examinations.
SBI PO 2018 Compensation Structure
SBI PO is one of the most generously compensated entry-level jobs in the entire banking sector as well as in general. With a gross compensation of up to INR 12,93,000 per annum, it's no doubt that the SBI PO 2018 examinations attract millions of candidates every year.
In addition to paying an amazing basic salary, an individual working as a SBI PO receives numerous allowances that include Dearness Allowance, City Compensatory Allowance, HRA or House Rent Allowance, Furniture Allowance, Medical Allowance, Travelling Allowance, Petrol Allowance, Newspaper Allowance, Entertainment Allowance, Briefcase Allowance, etc. With all those allowances, the life of an SBI PO is quite financially secure.  Although the compensations provided to SBI PO vary between the range of INR 7.55 lakh – INR 12.93 lakh per annum, they are more than sufficient to take care of all the needs of the PO and their family.
| | |
| --- | --- |
| Basic Pay | INR 27,620 |
| Pay Scales Applicable | 23,700 – 980/7 – 30,560 – 1,145/2 – 32,850 – 1,310/7 – 42,020 |
| Dearness Allowance |  46.9% of Basic Pay |
| City Compensatory Allowance | 3% – 4% depending on City |
| House Rent Allowance | 7% – 9% depending on City/Place of Posting |
| Furniture Allowance | INR 1,20,000 |
| Medical Insurance | 100% covered for employee; 75% covered for family members |
| Travelling Allowance | AC 2-tier fare is reimbursed to the employee for official travels |
| Petrol Allowance | INR 1,100 – 1,250 |
| Newspaper Allowance, Entertainment Allowance, Books Allowance, etc. | Varies based on Cadre |
| Gross Compensation | INR 7.55 lakh – INR 12.93 lakh per annum |
SBI PO 2018 Benefits & Perks 
An SBI PO certainly gets a superior salary package compared to most organizations in the country; however, that is not all. Working at SBI also provides the PO with several other benefits. Some of the benefits availed by a PO include –
Generous leave policy – an SBI PO receives 12 casual leaves in addition to 30 privilege leaves, and 15 medical leaves per 365 days or 1 year. For women, a 6-month leave is also permitted as maternity leave.
Leave travel concession – LTC is another benefit that SBI employees can avail in a block of either 2 years or 4 years. Also, an SBI PO may stay in a guest house provided to them by SBI with their family in any part of the country
SMART compensation package – SBI is one of the first banks in the country to provide a package where an SBI employee (or SBI PO, in this case) can choose to monetize certain parts of their compensation package.
Constant training and professional development – the SBI PO position is an intellectually demanding one. Hence, SBI trains all its PO regularly and ensures that they remain updated with the nuances of banking regularly.
Hence, a job opportunity at SBI is quite financially rewarding as well as intellectually stimulating. Given that the SBI PO 2018 Prelims are only about 2 months away, your preparation must now be in full swing; just be consistent with your preparation, and the benefits and compensation mentioned here will be yours someday!
All the Best!