SBI PO 2020 is the most-awaited banking examination of the year. Lakhs of aspirants have already started with their preparations in the hope of realizing their dreams of claiming a job in one of the leading organizations in the banking sector.
State Bank of India is one such Public Sector Bank that is desired by lakhs of aspirants to be their workplace but only a few lucky ones who also happen to be working hard consistently get to work there.
Let us take this pledge to become that lucky person whose bio says, "Works at SBI as Probationary Officer".
For this to happen to know all the important exam dates is of utmost importance while one is preparing for the most competitive exam i.e. SBI PO. This article comprising of the SBI PO exam dates 2020 will give your planning a full-fledged direction and the exact amount of time you have in hand to plan your course of action.
Let us unravel everything about the SBI PO Exam dates 2020 here in this article.
1. SBI PO Exam Dates 2020
SBI PO is a 3-step recruitment process starting with the Prelims round, followed by Mains round, and then finally candidates are shortlisted for the interview post which only a handful of them get selected for the post of Probationary Officer in State Bank of India. 
Although, it is suggested to start the preparations for prelims and mains simultaneously as you will not get enough time to prepare for mains if left to be prepared for after the prelims result.
The official notification of SBI PO 2020 is still awaited but let us inch closer towards the SBI PO 2020 expected dates.
Last year the notification of recruitment for SBI PO was released in April 2019. We can expect the Bank to follow the same schedule this year too. 
2. What is the SBI PO 2020 Recruitment Exam Date?

Now let us have a look at the Important dates (tentative) related to SBI PO 2020 Recruitment -:
| Activity | Dates |
| --- | --- |
| SBI PO 2020 Notification Released On | May 2020 (tentative) |
| Start of Online Registration | May – June 2020 |
| Download Admit Card for Online Preliminary Exam | To be notified later |
| SBI PO Preliminary Exam Date | To be notified later |
| Result of Online Preliminary Exam | To be notified later |
| Download of Call letter for Online Main Exam | To be notified later |
| SBI PO Mains Exam Date | To be notified later |
| Result of Online Main Exam | To be notified later |
| Download Call Letter for Group Exercises & Personal Interview | To be notified later |
| Conduct of Group Exercises & Interview | To be notified later |
| Declaration of Final Result | To be notified later |

All the important dates and schedules will be updated after the official release of the notification for the year 2020.
Start Your Preparations for SBI PO with a Free Mock Test
3. SBI PO 2020 Exam Date | Application Fees
| | | |
| --- | --- | --- |
| Sr. No. | Category | Application Fee |
| 1 | SC/ST/PWD | Rs.125/- (Intimation Charges only) |
| 2 | General and Others | Rs. 750/- (App. Fee including intimation charges) |
4. Previous Year SBI PO Vacancy
SBI PO Vacancies for 2020 will be announced with the release of the SBI PO Recruitment notification 2020. The SBI released a total of 2000 vacancies for the year 2019. So, we can expect 2000+ vacancies for the year 2020.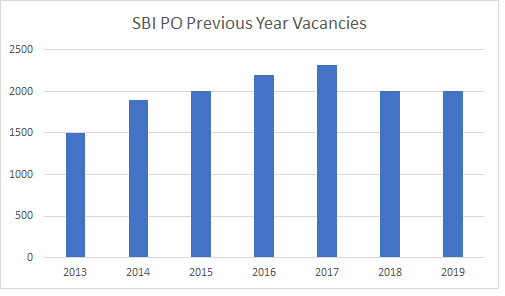 5. GharPe Coaching 2.0 – Free Online Course
We are running this completely free online course GharPe Coaching for the candidates to prepare themselves for the upcoming government exam. You can access this course by registering here on our Oliveboard Edge Platform.
GharPe coaching consists of a total of 70+ sessions on all the topics combined like the English Language, Quantitative Aptitude, Reasoning Ability & General Awareness.
Join Now and start preparing for upcoming banking exams.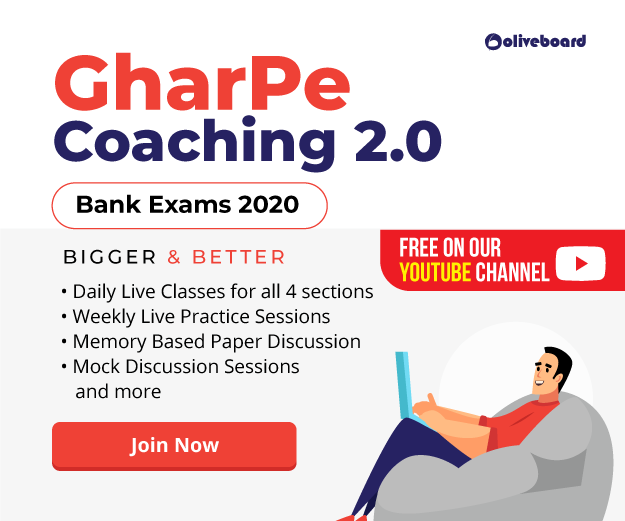 5.

SBI

PO Important Dates – Frequently Asked Questions
Q. When is the SBI PO notification expected to be out?
Ans:- The SBI PO 2020 notification is expected to be released in between March'20 to April '20.
Q. When is the SBI PO Exam to be conducted?
Ans: SBI PO 2020 Preliminary exam was tentatively scheduled to be conducted in the month of June 2020.  Due to the lockdown, there is no updation in the exam dates.
Q. Is SBI PO a bilingual paper?
Ans:- Except the descriptive English section in mains, all the other sections are bilingual i:e available in both Hindi and English.
Q.  What percentage is required in the graduation to appear for the SBI PO exam?
Ans:- Percentage in graduation is not considered as an eligibility criterion to appear in the SBI PO exam.
Q. Is there negative marking in SBI PO Exam?
Ans: 1/4th of marks assigned to a question will be deducted as penalty for the wrong answer in the objective papers of Prelims and Mains Exams. 
Q. Are there fixed timings for different sections?
Ans. Yes, there are fixed timings in both the objective papers & subjective paper. 
Q. How many times the SBI PO exam is conducted in a year?
Ans: SBI PO exam is conducted annually, that it is conducted only once in a year.
Q. How many hours should I study for SBI PO?
You can devote 2-3 hours daily if you are a working professional and 4 to 5 hours if preparing full-time. 
Q. What is the SBI PO salary?
Ans: The basic pay starts for a Probationary Officer at SBI starts at Rs 27,620. The gross emoluments for a Probationary Officer (PO) at SBI would range from Rs 8.2 lakhs per annum to a maximum of Rs 13.02 lakhs per annum depending on the city they are posted in.
Q. Can I crack SBI PO in the first attempt?
Ans: Yes, you can. Refer to the preparation strategy here. 
Start Preparing Now & Ace SBI PO Oliveboard's Free Mock test
That will be all from us in this blog. I hope the information shared here proves useful to you.
The details of the actual examination will be updated here once the official notification for recruitment is out.
Also Check: