The State Bank of India conducts an All India level exam for the recruitment of probationary officers in its branches across the country. The recruitment process consists of 3 levels, Prelims, followed by mains, and the interview. Lakhs of candidates appear every year in the recruitment process and why not, it is one of the most lucrative jobs in the banking industry. In this article, we will cover one of the most highlighted aspects of this job, SBI PO Salary & Perks 2020.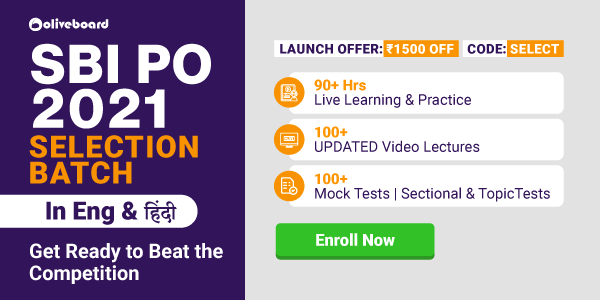 So, Hold tight and read till the end to know all the benefits and in-hand pay received by a PO in SBI.
Start Your Preparation for SBI PO 2020 Now With A Free Mock Test!
What is SBI PO Salary 2020?
According to the official notification of 2019, the starting basic pay of SBI PO is Rs. 27,620/- (with 4 advance increments) in the scale of Rs. 23700-980/7-30560-1145/2-32850-1310/7-42020 applicable to Junior Management Grade Scale-I.
The official will also be eligible for D.A, H.R.A/ Lease rental, C.C.A, Medical, and other allowances & perquisites as per rules in force from time to time.
The total compensation per annum on a CTC basis be a minimum of Rs. 8.20 lacs and a maximum of Rs. 13.08 lacs depending on the place of posting and other factors.
Note: Any changes in the salary after the official notification of SBI PO 2020, will be updated here.
SBI PO Salary 2020 (Pay Scale including Perks & Benefits)
| | |
| --- | --- |
| Basic Pay | INR 27,620 |
| Pay Scales Applicable | 23,700 – 980/7 – 30,560 – 1,145/2 – 32,850 – 1,310/7 – 42,020 |
| Dearness Allowance |  46.9% of Basic Pay |
| City Compensatory Allowance | 3% – 4% depending on City |
| House Rent Allowance | 7% – 9% depending on City/Place of Posting |
| Furniture Allowance | INR 1,20,000 |
| Medical Insurance | 100% covered for employee; 75% covered for family members |
| Travelling Allowance | AC 2-tier fare is reimbursed to the employee for official travels |
| Petrol Allowance | INR 1,100 – 1,250 |
| Newspaper Allowance, Entertainment Allowance, Books Allowance, etc. | Varies based on Cadre |
| Gross Compensation | 8.20 Lakhs (minimum) to Rs. 13.08 lakhs (maximum) per annum. |
SBI PO in hand Salary – After all the deduction, the take-home salary of an SBI PO generally ranges from 42,000 to 44,000.
The salary of a PO in SBI has annual increments. Wondering what will be your salary after 5 years of working with SBI? Well, if you perform exceptionally, you might get promoted to Scale-II officer.
Nevertheless, if you are in Scale-I, your salary will be around 47,000/- to 48,000/-. People get an increment of 980/- annually on basic pay with an additional allowance of 10,000/- to 15,000/-.
Some Additional Benefits
Contribution Pension Scheme/New Pension Scheme

Medical Aid for self (100%) and for family (75%)

LTC

Home Travel Concession/ Leave Fare Concession

Concessional interest rates for Housing/Car/Personal Loans
Looking for SBI PO Salary Slip? – Here You Go!
Here's a glimpse of what an SBI PO's salary slip looks like: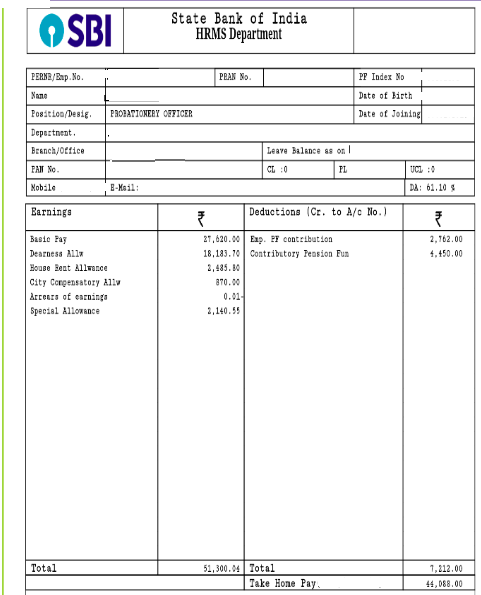 How Does an SBI PO Promotion Cycle Works?
SBI PO is considered one of the most prestigious banking jobs. The Bank has a strong work culture that encourages dedicated employees to grow professionally, by providing them immense growth opportunities.
SBI conducts promotion exams annually and has a clearly defined system for promotions and growth of its employees. SBI POs have faster promotions and can rise up much faster in comparison to POs of other banks.
The annual appraisal that happens at SBI is fair and transparent. Dedicated and hardworking employees can reach higher in the hierarchy in a very short time, due to a huge number of vacancies in all grades of their promotion channels.
State Bank of India provides immense opportunities for growth in career, including opportunities for posting abroad.
The attractive promotion policy of the Bank provides an opportunity to the meritorious and exceptionally brilliant officers to reach the Top Management Grade in a reasonably quick time. Sounds Interesting? Start Preparations Now with a Free Mock test
On joining, the selected candidates will be designated as "Probationary Officers" and will be on probation for two years. They will be subjected to continuous assessment during the probation period.
Those candidates who qualify in the assessment as per standards determined by the Bank from time to time will be confirmed in the Service of the Bank in Junior Management Grade Scale-I (JMGS-I).
Further, those officers who achieve higher standards/ scores stipulated by the Bank may be considered for direct placement in the next higher grade, Middle Management Grade Scale-II (MMGS-II) immediately after confirmation.
Start Preparing For SBI PO! Register Now For A Free Mock Test from Oliveboard
What is the SBI PO's Career Growth?
The candidate selected in the SBI PO has to be on 2 years of probation and complete multiple evaluations test. Here is the career graph for a PO in SBI.

Did You Know: Former First Woman Chairman of SBI, Smt. Arundhati Bhattacharya joined SBI in 1977 as a Probationary Officer.
How To Prepare For SBI PO 2020? – Get Complete Mock Test Series
To start your SBI PO 2020 Preparation we are giving you a FREE SBI PO Mock Test 2020, Register Now to avail. You just need to register on the Oliveboard portal and start with your SBI PO Free Mock Test. With the free Mock Test, you can know where you stand and how much you need to prepare for different topics from SBI PO Syllabus.
Note:
Mock Tests are available in HINDI and ENGLISH both
Tests can be taken on Mobile App or PC
SBI PO Salary 2020 | FAQs
Q1) What is the In Hand Salary of SBI PO?
Ans: Approximately, a total of Rs 40000 to 42000 salary is the monthly in-hand salary of SBI PO. The Gross compensation received lies between 8.20 Lakhs (minimum) to Rs. 13.08 lakhs (maximum) per annum. The amount varies with the location of the job posting.
Q2) Which Bank PO gets the highest salary?
Ans: SBI offers the highest pay package to its probationary officers.
Q3) Does SBI PO get a pension?
Ans: The newly recruited Bank PO is provided NPS facility in which a certain amount of money from the employees and the employers are contributed to the pension funds. The same is invested in the market. In addition to that, you will get a certain amount as a pension each month.
Q4) Is the SBI PO exam tough?

Ans: It is a competitive exam, if it is tough for one candidate, it will be tough for others too. Your level of preparation will make all the difference.
Q5) Can I crack SBI PO in the first attempt?

Ans: Yes, it is possible with regular studies, expert guidance, and the requisite amount of revision before the exam.
Q6) How long is SBI PO Training?
Ans: A bank PO undergoes a 2 year probation period or training and then gets the post of Assistant Manager on joining a branch.
Q7) Can SBI PO get home posting?
Ans: As a Probationary Officers in SBI you can be posted anywhere in India including places near your hometown.
That brings us to the end of the article, SBI PO Salary. We have covered the major aspects and highlights of the post and its benefits. You can register here for a free mock test and start your preparations for SBI PO 2020.
Also Check: