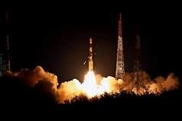 ISRO working on green propellent
Indian Space Research Organisation (ISRO) is developing an environment ­friendly propellant to power satellites and spacecraft.
To replace the conventional hydrazine rocket fuel, a highly toxic and carcinogenic chemical, with a greener propellant for future missions
Initial tests are performed by the research team at the Liquid Propulsion Systems Centre (LPSC) which have shown promising results in the formulation and associated tests of a propellant blend based on hydroxylammonium nitrate (HAN).
Did you Know
The ISRO, formed in 1969 is the space agency of the Government of India headquartered in Bangalore. Its vision is to "harness space technology for national development while pursuing space science research and planetary exploration.