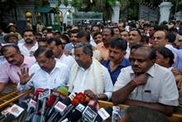 Karnataka election results: BJP largest party, Congress-JD(S) form coalition
Congress has supported JDS to stake claim to form the next govt in Karnataka, as the BJP seemed to fall short of a majority.
Now, the ball is in the Governor's court whether he will invite the BJP as the single largest party to form a minority government or invite the Congress-JD(S) combine with 115 seats to form the government. In either case, the government should prove its majority on the floor of the House to ensure five-year rule.
Did you Know
In the recently declared election result, the Congress ended up second with 78 seats, while the BJP got 104 seats. JD(S) came third with 38 seats.