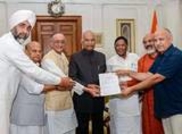 States petition President against 15th Finance Commission
Six non-BJP ruled states petitioned President Ram Nath Kovind against the terms of the 15th Finance Commission for deciding the share of states in taxes collected by the Centre which violate the federal principle as enshrined in the Constitution, erode autonomy of states, and bring significant financial hardship to all states.
The memorandum was signed by chief minister and finance ministers of Andhra Pradesh, Kerala, West Bengal, Puducherry, Punjab, and Delhi.
Did you Know
The Fifteenth Finance Commission of India was constituted in November 2017. N.K Singh is the Chairman of the commission.