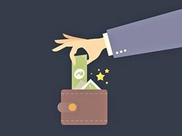 No-frills a/c holders pay heavy penalty for exceeding withdrawal limit
No-frills account holders face a penalty for exceeding the limit of four withdrawals in a month.
Several banks are using the 5th debit as a trigger to convert the Basic Savings Bank Deposit Account (BSBDA) into a regular one.
Did you Know
The feature of BSBDA- basic banking services like money transfer and savings can be availed with a simplified KYC norm.

The account can be started and maintained with a nil balance. Under PMJDY also, the bank account offered is BSBDA.

No charges are levied for maintaining no-frills account or BSBDA in a bank.

Presently there are about 54 crore BSBDAs have been opened through branches and Business Correspondent (BC) points, of which, more than half have been opened under PMJDY.