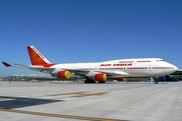 No bids for Air India stake sale
The government received zero bids from potential players, to privatise Air India.
It proposed to sell 76% of Air India along with low-cost subsidiary Air India Express and a 50% stake in AISATS, a ground-handling joint venture with Singapore Airport Terminal Services.
The new owner will have to take the debt and current liabilities of ₹33,392 crore, while the government will park nearly ₹25,000 crore in a special purpose vehicle.
Did you Know
In 2001, the Atal Behari Vajpayee government's attempt to shed a stake in the airline had met with a similar fate.