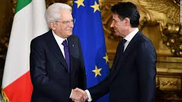 Giuseppe Conte sworn in to lead populist Italian government
A law professor, Giuseppe Conte was sworn in as Italy's new Prime Minister after a last-ditch coalition deal ended months of political deadlock and narrowly avoided snap elections in the eurozone's third-largest economy.
Conte, an academic and political novice will head a government of ministers from the anti-establishment Five-star movement (M5S) and the far-right League party.
The 53-year-old was sworn in alongside his cabinet, which will see M5S leader Luigi di Maio and League Chief Matteo Salvini in key ministerial posts.
Did you Know
The capital of Italy: Rome
The currency of Italy: Euro
President of Italy: Sergio Mattarella