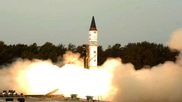 India successfully test-fires nuclear-capable Agni-5
Long-range ballistic missile Agni-5 was successfully test fired off Odisha coast.
Features include many new indigenously-developed technologies, very high accuracy Ring Laser Gyro based Inertial Navigation System (RINS), and the most modern and accurate Micro Navigation System (MINS) which improves the accuracy of the missile.
Agni-5 can carry nuclear warhead weighing 1.5 tonnes to a distance of over 5,000 km and is the longest missile in India's arsenal capable of reaching most parts of China.
Did you Know
Pokhran-II was the series of five nuclear bomb test explosions conducted by India at the Indian Army's Pokhran Test Range in May 1998.
It was the second Indian nuclear test; the first test, code-named Smiling Buddha, was conducted in May 1974.