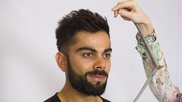 Virat Kohli takes his place at Madame Tussauds
Virat Kohli joined the Madame Tussauds Wax Museum as the Indian captain's statue in the sports zone.
It features over 50 wax models including Sachin Tendulkar, Cristiano Ronaldo, Lionel Messi and Usain Bolt in sports zone.
Did you Know
Madame Tussauds is a wax museum in London with smaller museums in a number of other major cities.
It was founded by wax sculptor Marie Tussaud.