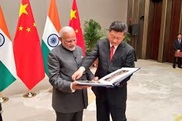 India, China ink 2 MoUs on sharing of Brahmaputra river data and supply of non-Basmati rice
China has resumed sharing hydrological data on the Brahmaputra and Sutlej rivers with India
The two countries also signed an agreement under which China has agreed to import non-Basmati rice from India which is likely to bridge the ballooning trade deficit to a certain extent.
Did you Know
The Brahmaputra is one of the major rivers of Asia.
It flows through China, India, and Bangladesh.