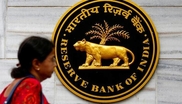 RBI proposes amendments to working capital loan norms
The Reserve Bank of India (RBI) has proposed a minimum 40% loan component for working capital funding of Rs. 150 crore and above to bring in greater credit discipline and improve monetary transmission.
It also proposes to increase the minimum limit to 60% from April 1, 2019.
The loan's tenure will be minimum seven days.
Did you Know
Currently, working capital is mostly in the form of cash credit for which interest rate is reset once a year. Also, cash credit does not have a tight repayment schedule.