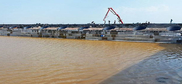 Pattiseema will help revive Krishna delta, says CM
The Pattiseema Lift Irrigation Scheme will help revive the Krishna delta to its past glory and infuse life back into the Krishna that has dried up completely.
The project has one of the largest pump house in Asia with 24 pumping units spread across an area of 7,476 sq m.
These pumps deliver water drawn from the river Godavari in Pattiseema into the Polavaram Project Right Main Canal for the benefit of farmers in the Krishna river delta.
Did you Know
Andhra Pradesh
Chief minister: N. Chandrababu Naidu
Capitals: Hyderabad, Amaravati
AP is known as Egg bowl of Asia.