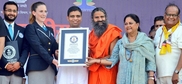 Kota in Guinness World Records for largest yoga session
A Guinness World Record was created in Rajasthan's Kota city, where more than 1.05 lakh people performed yoga to mark International Yoga Day.
The event took place in the presence of yoga guru Baba Ramdev and Chief Minister Vasundhara Raje.
The previous record of yoga, performed by 55,524 people, was achieved in Mysore in 2017.
Did you Know
International Day of Yoga is celebrated annually on 21 June since its inception in 2015. An international day for yoga was declared unanimously by the United Nations General Assembly (UNGA).
The Indian Prime Minister Narendra Modi in his UN address suggested the date of 21 June, as it is the longest day of the year in the Northern Hemisphere and shares special significance in many parts of the world.