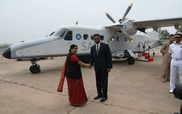 After aid for defence buys, India gifts plane to Seychelles
India gifted a Dornier maritime patrol aircraft to Seychelles which will enhance the surveillance capabilities of the island nation.
PM announced a $100 million line of credit under which Seychelles can purchase military hardware from India.
The Hindustan Aeronautics Limited (HAL) built Do-228 aircraft was formally handed over by External Affairs Minister Sushma Swaraj.
The aircraft is expected to be flown at the upcoming 42nd Independence Day celebrations of Seychelles on June 29.
This is the second Dornier to be gifted by India to Seychelles after the first one in January 2013.
Did you Know
The Dornier is equipped with a 360 degree surveillance radar, forward looking Infra-red system, satellite communication, traffic collision and avoidance system, enhanced ground proximity warning system and other sensor as requested by the operator.
It started in 1981.