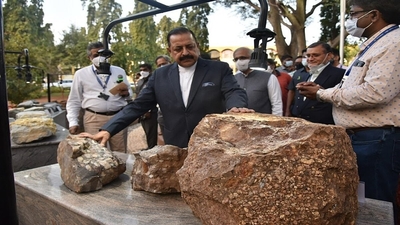 Hyderabad gets India's first Open Rock Museum, 35 varieties of rocks on display
Union Minister of State for Science & Technology & Earth Sciences,Jitendra Singh, inaugurated India's 1st Open Rock Museum.
The museum displays around 35 different varieties of rocks from different parts of India with ages ranging from 3.3 billion yrs. to around 55 million yrs.
These rocks also represent the deepest part of the earth, up to 175 kms from the earth surface.
Did you Know
CSIR Director General, Shekhar C. Mande.