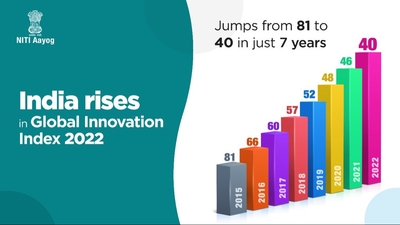 India climbs six notches to 40th position in Global Innovation Index 2022
India climbed six notches to 40th position in the Global Innovation Index 2022 on account of improvement in several parameters, according to a report by the Geneva-based World Intellectual Property Organization (WIPO).
Switzerland, the United States, Sweden, the United Kingdom and the Netherlands are the world's most-innovative economies.
India was at 46th position in 2021.
Did you Know
WIPO, Director General : Daren Tang.