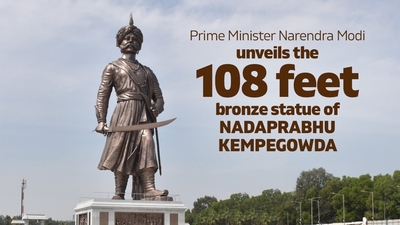 PM unveils 108-feet-long bronze statue of Sri Nadaprabhu Kempegowda in Bengaluru
The statue is built to commemorate the contribution of Nadaprabhu Kempegowda, the founder of the city, towards the growth of Bengaluru. Conceptualised and sculpted by Ram V Sutar of the Statue of Unity fame, 98 tonnes of bronze and 120 tonnes of steel have gone into making this statue.
It is called 'Statue of Prosperity' in Bengaluru.
Did you Know
Chief Minister of Karnataka: Basavaraj Bommai. Governor of Karnataka: Thawar Chand Gehlot