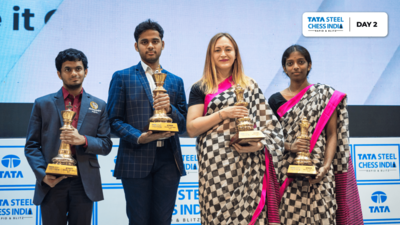 Arjun Erigaisi, Rameshbabu Vaishali Emerge Champions in Tata Steel Chess India
Arjun Erigaisi clinched the Blitz title finishing ahead of Hikaru Nakamura on the concluding day of the Tata Steel Chess India.
Displaying a strong performance on the last day, R Vaishali emerged as the Blitz women's champion. She ended with 13.5 points followed by Mariya Muzychuk with 12 points and Harika Dronavalli with 11 points.
Did you Know