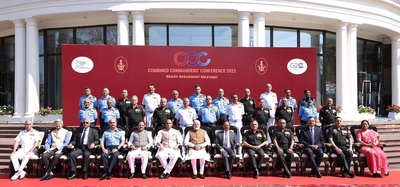 Joint Commanders' conference being held at Bhopal in Madhya Pradesh
Prime Minister Narendra Modi addressed the Joint Commanders' conference of the three services which is being held at Kushabhau Thackeray International Convention Center in Bhopal.
The theme of the conference is 'Ready, Resurgent, Relevant'.
Commanders of the three services and senior officials of the Ministry of Defense are participating.
Did you Know