Banking employees have professional exams that help progress their career growth and incentivise the CAIIB professional exam. The successful candidate is certified as a Certified Associate of the Indian Institute of Banking and hence the acronym CAIIB. Two CAIIB Increments in salary can make a huge difference to the total take-home salary besides helping with promotions and career advancements.
The two compulsory CAIIB papers are
BFM- Bank Financial Management
ABM- Advanced Bank Management
Candidates can choose the elective paper from the following eleven topics.
Information Technology
Rural Banking
Retail Banking
Cooperative Banking
Central Banking
Risk Management
Human Resources Management
Corporate Banking
International Banking
Financial Advising
Treasury Management
CAIIB Exam: Overview 
| | |
| --- | --- |
| Particulars | Details |
| Name of Exam | CAIIB |
| Opening Registration Date | December 1st 2021 |
| Last Date Registration | December 21st, 2021 |
| Exam dates across over 100 Indian cities. | January 30th, 2022 to February 12th, 2022 |
| Type | Online and in the written MCQ format |
| Exam Papers (Four Papers) | Compulsory PapersBFM- Bank Financial ManagementABM- Advanced Bank Management Elective Papers (any one of the eleven) |
| Conducting Organization | IIBF Indian Institute of Banking and Finance aka IIB- Indian Institute of Bankers. |
| Examination Fee | Attempt-1 INR 3000/-Attempt-2 INR 1300/-Attempt-3 INR 1300/-Attempt-4 INR 1300/- |
| Late Fees | IIBF will charge the above fee for candidates registering within one week of the declared opening date.Those who register in the 3rd and 2nd week of registration are liable to pay an additional INR 100/-. Those who register in the 4th week of registration or during an officially announced extension period are liable to pay an additional INR 200/-. |
| Language | English / Hindi. |
| Certification earned | Certified Associate. |
| Official website | https://iibf.org.in/ |
| | |
| | |
Exam Dates:
The CAIIB Increment exam dates are as below.
| | |
| --- | --- |
| CAIIB Papers | Exam Dates |
| ABM- Advanced Bank Management | January 30th, 2022 |
| BFM- Bank Financial Management | February 6th, 2022 |
| Elective Paper | February 12th, 2022 |
Exam Pattern
The exam pattern is given below to help prepare effectively.
Each of the three papers (of which one is an elective paper) has four modules with 100 questions and a total score of 100 marks.
There is no negative marking for incomplete questions or wrong answers in the CAIIB exams.
A candidate can take a maximum of 4 attempts to clear the bi-annual CAIIB exam in 2 years from filing the first-attempt application form. If unsuccessful, the candidate must re-enrol, and all papers they may have passed will not be considered if re-enrolling.
The questions are designed to test a candidate's skills in conceptual grasping, knowledge testing, problem-solving, logical and analytical expositions and case analysis.
Candidates can use the mock practice test available on the IIBF Official Website.
A merit list is drawn up using several parameters on clearing the exams, including the CAIIB cut-off score, service record, etc. The short-listed candidates are notified electronically and on the official website.
DOWNLOAD THE OLIVEBOARD APP FOR ON-THE-GO EXAM PREPARATION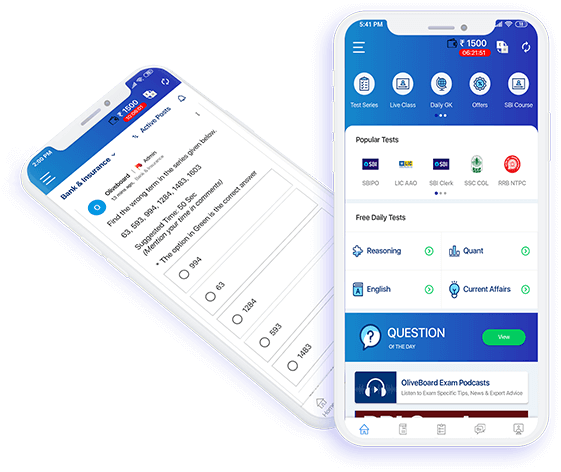 Video Lessons, Textual Lessons & Notes
Topic Tests covering all topics with detailed solutions
Sectional Tests for QA, DI, EL, LR
All India Mock Tests for performance analysis and all India percentile
General Knowledge (GK) Tests
Free videos, free mock tests, and free GK tests to evaluate course content before signing up!
The CAIIB Increment:
The IBA (Indian Bank Association) and its PSB (Public Sector Bank) members offer two basic pay CAIIB Increments if a candidate clears the CAIIB written exams. The mandatory increments apply to both grades of Clerk and Probationary Officer. Hence, the basic pay increment guideline states that
Candidates clearing the CAIIB exam if in the Clerk Grade get two CAIIB increments on the basic pay.
At Officer Grade, a candidate who clears the CAIIB exams gets two basic salary increments.
Hence, after qualifying at the CAIIB exam, the total in-hand salary of a banking clerk (banks like SBI, RBI and PSBs may have slightly different basic pay scales) is higher and rises to INR 11,765/- basic salary plus two salary increments or a basic pay of INR 11,765 (655×3), i.e. INR 13,730.
Eligibility Conditions:
CAIIB exams mandate the following eligibility conditions. They are conducted bi-annually.
The eligibility norms are as follows:
Age Limit: There is no age limit criterion, although working in a bank is mandatory.
Educational Qualification:
Must have cleared the JAIIB exam, also designated as Part-1 of the Certified Associate IIBF Examinations.
A pass in 12th grade with the recommendation of the Officer-in-Charge or Manager is mandatory. Degree holders in all disciplines can directly apply for the CAIIB Increment exam.
The number of attempts: 4 attempts consecutively undertaken within a maximum of 2 years from the date of application for the CAIIB exam. Those unable to clear the exam need a fresh enrolment, and they also do not get credit for any papers passed in the previous attempts.
The Benefits of Passing CAIIB:
Here are some of the benefits of clearing the CAIIB exam:
.
The successful candidates get two increments added to their basic pay.
Passing the CAIIB exams helps certify the candidate as a Certified Associate of The IIBF.
The CAIIB scores in internal and external promotions by placing the Certified Associate ahead of the competition of the CAIIB-unqualified bankers.
It helps with better financial and banking knowledge boosting the candidate's confidence, quick-decision abilities and management of the banking processes.
A Clerk gets promoted to a Probationary Officer with a CAIIB Increment with wider responsibilities including cash balance decisions, clerical work cross-checking, documentation of loans, etc.
The Probationary Officer is promoted to Manager on clearing the CAIIB exam and besides the CAIIB Increment bears additional responsibilities like loan sanctions, decision-making, independent branch charge etc.
Conclusion:
It isn't easy to work and study at the same time. Qualifying at the CAIIB exams test skills not just in terms of banking knowledge but also concerning skills acquired in decision making, legal procedures, documentation and sanction of loans, conceptual grasp, business acumen and more. To grow careers in banking, the learning process must never end. Growing knowledge also leads to career betterment with lucrative CAIIB Increments. Follow this up with certificates in individual subjects with IIBF.
FAQs:
Can I take up the CAIIB exams directly?
No. One of the eligibility conditions for the CAIIB exams is that a candidate should have cleared the Part-I IIBF Associate Exams or JAIIB exams.
How many modules are present in every paper?
The CAIIB papers cover four modules each.
What documents are needed for the CAIIB exams?
Do carry the admit card printed copy, an ID card like passport, Aadhaar or PAN card with photo, and the IIBF Membership ID card in original to the venue.

Oliveboard is a learning & practice platform for premier entrance exams. We have helped over 1 crore users since 2012 with their Bank, SSC, Railways, Insurance, Teaching and other competitive Exams preparation.