CAIIB Result Out for June/July 2022: The Indian Institute of Banking and Finance has released the results for the Certified Associate of Indian Institute of Bankers on the 19th of September, 2022. Those who pass the CAIIB exam are certified by IIBF and are entitled to all the benefits of CAIIB. The benefits are both monetary and non-monetary. A hearty congratulations to all who have cleared the exam!
CAIIB Result – (June 2022)- Overview
IIBF has declared the results for the two compulasory papers and one elective paper of the CAAIB examination. To qualify, the candidate has to get:
The cutoff of 50 marks out of the total of 100 marks for each paper
OR
A 50% Aggregate With A Minimum Of 45 Marks In Each Paper In A Single Attempt
The following are the main dates and information to keep in mind about the IIBF CAIIB exam:
| Particulars | Details |
| --- | --- |
| Result Released By | Indian Institute Of Banking And Finance |
| Result Released On | IIBF, Official Website- www.iibf.org.in |
| CAIIB Exam Date | 26th June and 3rd – 9th July 2022 |
| CAIIB Result Date | 19th September, 2022 |
CAIIB Result: Steps To Download
STEP 1
Visit the official website of IIBF.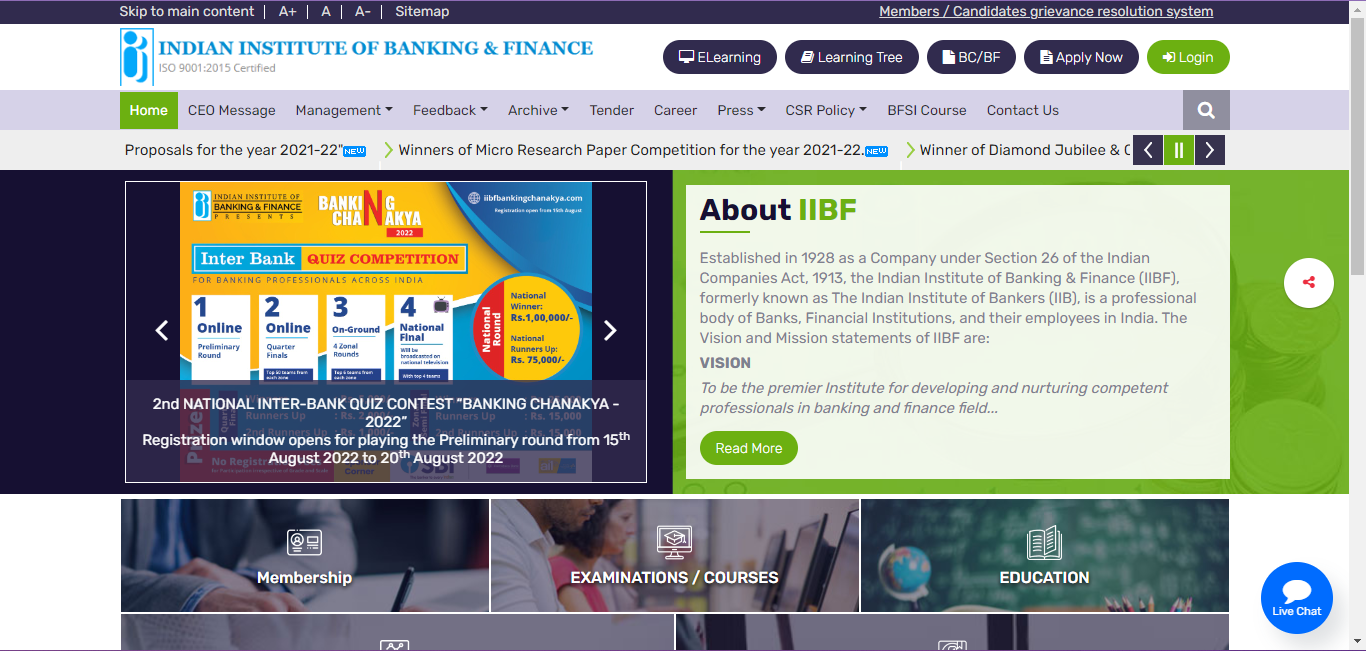 STEP 2
On the homepage- Search- Examination/Courses option.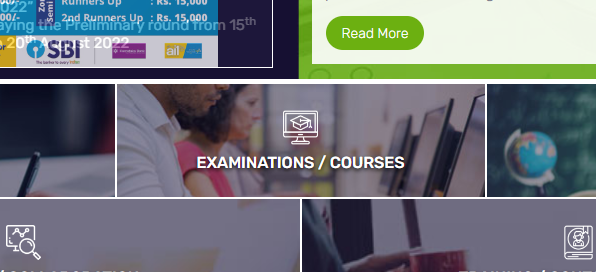 STEP 3
Click that option and then click on the Result/ Consolidated Marksheet option.

STEP 4
Click on Result for CAIIB June/July 2022 Examination.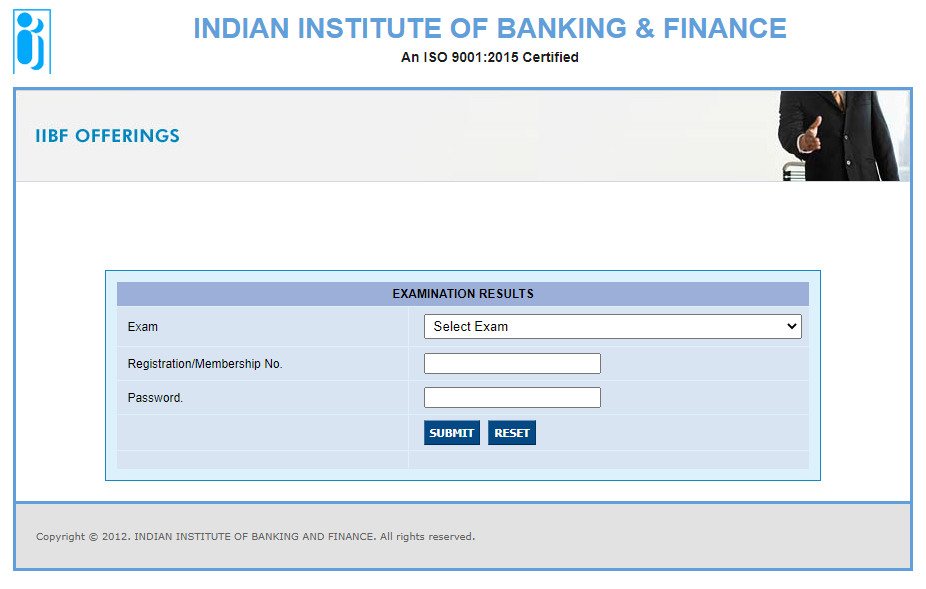 STEP 5
Put your login credentials (Registration number/ Membership Number) and password.
STEP 6
Your result will be on screen, which you can download for future reference.
Details Mentioned in the Result
The following are the details candidates will find mentioned in their scorecard.
Name of Candidate
Candidate Roll Number
Total Marks
Marks Secured
Exam Pattern and Passing Criteria
The following is the exam pattern for IIBF CAIIB 2022:
Exam Pattern
Subject
Type
Number Of Questions
Marks
Duration
Advance Bank Management
Compulsory
100
100
2 Hours
Bank Financial Management
Compulsory
100
100
2 Hours
Elective Paper
(1 Option To Be Chosen From The Following Subjects)-
Corporate BankingRural BankingInternational Banking Retail BankingCo-Operative BankingFinancial AdvisingHuman Resources ManagementInformation TechnologyRisk ManagementCentral BankingTreasury Management
100
100
2 Hours
Passing Criteria
For a candidate to qualify the CAIIB exam, the following points will be considered:
A candidate has to clear all the 3 papers to be considered a pass.
If a candidate scores 50% aggregate in a single attempt with a minimum of 45 marks in each subject, he is considered to pass.
If a candidate scores 50 marks out of 100 in a subject, he is considered to have passed in that subject.
According to CAIIB Exam Pattern, a candidate gets 4 attempts (in two consecutive years) to clear all the papers, i.e. if he clears 1 in the first attempt, he has 3 attempts left to clear the remaining two.
If a candidate cannot clear all the papers in the given number of maximum attempts (4 attempts), he has to reappear/re-enrol for the exam afresh. The subject/ subjects passed earlier will no longer be considered valid, and the candidate has to clear all three subjects again.
The time limit of 2 years begins with the date of application for the first attempt. Attempts will be counted irrespective of whether the candidate appears in any examination or otherwise.
CAIIB Result 2022- Information on December Cycle
Candidates looking to give the CAIIB can look forward to the December cycle. The following are the important dates to mark for the exam in December:
| Events | Dates |
| --- | --- |
| Starting of Application Process | 30.09.2022 |
| Last Date of Registration | 20.10.2022 |
| CAIIB- Advanced Bank Management Exam date | 27-11-2022 |
| CAIIB- Bank Financial Management Exam date | 04-12-2022 |
| CAIIB- Rural Banking | 10-12-2022 |
| CAIIB/ CAIIB ELEC-Retail Banking | 10-12-2022 |
| CAIIB/ CAIIB ELEC-Human Resources Management | 10-12-2022 |
| CAIIB/ CAIIB ELEC-Information Technology | 10-12-2022 |
| CAIIB/ CAIIB ELEC-Risk Management | 10-12-2022 |
| CAIIB/ CAIIB ELEC-Central Banking | 10-12-2022 |
Make sure to keep your login details on hand to register in the first slot without delay!
CAIIB Result: Perks for Qualified Candidates
The employees who effectively clear the CAIIB test gets benefits like incentive, increment, promotion etc. The benefits of clearing this exam can be classified into the following categories:
1. Monetary Benefits-
Monetary Benefits are the benefits received in terms of money. They are also known as financial benefits. According to the Indian Bank association settlement rules, any permanent bank worker from PSUs can get salary increments post clearing CAIIB Exam. So, a CAIIB Salary is quite enhanced.
For clerk grade– The clerks who clear the CAIIB Exam are entitled to two increments in salary per the present-day scale. For example- A clerical employee whose basic salary was 11765/- is increased to 13730/-
For officer grade– The officers working with the nationalized bank are entitled to 1 increment in their salary.
The private banks promptly recruit CAIIB candidates on a higher salary.
2. Non Monetary Benefits-
CAIIB accreditation provides advanced information which enables the bankers in better decision making in the fields of Treasury Management, Risk Management, Balance Sheet Management, Credit Management, International Banking, Economic Analysis and so on.
CAIIB Exam holds a good weightage in the promotional interviews. So, if the candidate has qualified for the CAIIB Exam, he gets an edge in the promotion and becomes eligible for internal promotion.
CAIIB Exam gives the candidate access to technical knowledge. Thus enabling the posting in departments such as Foreign Exchange, Treasury, Government Business etc.
After clearing the CAIIB exam, the candidate can also opt for a higher post job in a private bank.
Conclusion
Once again, Oliveboard wishes the heartist congratulation and a brighter future to the CAIIB qualified candidates. To those who haven't, no worries, you can try and clear again in the December cycle. You can sign up for our comprehensive CAIIB Courses to help you give it your best shot.
You can also check out our YouTube channel for updates and information.
Once again, congratulation and best of luck!
CAIIB Result 2022 – Frequently Asked Questions
In what ways is CAIIB Job Profile better than their non-certified counterparts?
CAIIB Job Profile has many perks and benefits. The certified bankers have better chances of internal promotions and posting to more lucrative and prestigious departments because they now have advanced knowledge about banking and finance.
How many increments are there in the salary of a bank clerk after clearing the CAIIB Exam?
There is a provision of two increments in the salary of a bank clerk, post-CAIIB Exam.

Who can take a CAIIB Exam?
Any JAIIB qualified member of the institute can take CAIIB Exam.
What does salary increment mean in the case of a clerk?
or a clerical employee, the pay band is: 11765-655/ 3-13730-815/ 3-16175-980/ 4-20095.
In a pay band, you need to understand that the initial basic pay is around Rs. 11765/-with an annual increment of 655 till the basic pay reaches 13730/- with an annual increment of 815 till it reaches 16175 and so on.
But after CAIIB, the pay structure of a bank clerk will be- 11765 plus 655* 3 (increments)= 13730/- basic pay within 6 months.
DOWNLOAD THE OLIVEBOARD APP FOR ON-THE-GO EXAM PREPARATION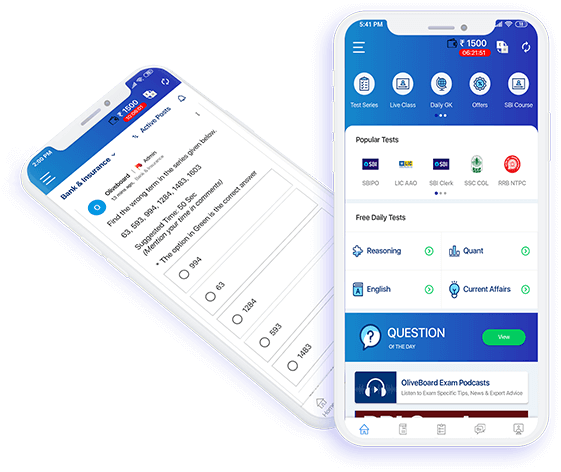 Video Lessons, Textual Lessons & Notes
Topic Tests covering all topics with detailed solutions
Sectional Tests for QA, DI, EL, LR
All India Mock Tests for performance analysis and all India percentile
General Knowledge (GK) Tests
Free videos, free mock tests, and free GK tests to evaluate course content before signing up!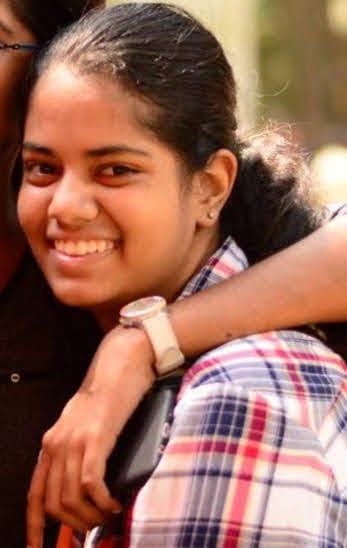 Recently started writing about bank and government exam preparation. As an aspirant myself, I have insight into various aspects of preparation. I make use of these insights to provide quality preparation content from the standpoint of an aspirant. Providing accurate information on various exams with convenience to the candidate is what I hope to achieve.