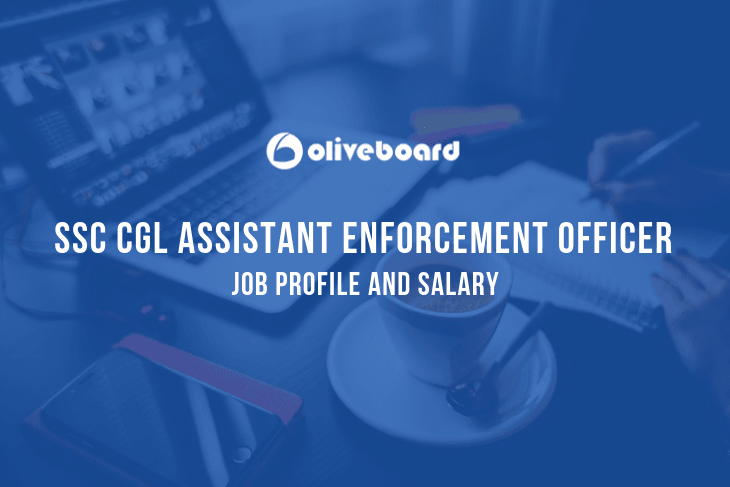 If you have always dream of being an SSC CGL Assistant Enforcement Officer, then you will have to sit for the SSC CGL examination in order to qualify. The Staff Selection Committee conducts the respective examination every year to recruit aspirants in this prestigious position. However, the exam can be a tough one to crack, as the competition is very high. Make sure that you know about the entire SSC CGL exam details so that you are able to prepare well and perform well on the day of the actual examination.
SSC CGL Assistant Enforcement Officer: Job profile
The position of the Assistant Enforcement Officer is predominantly a desk job, which revolves mostly around clerical work such as filing official papers and maintaining files. Additionally, you will also have to handle or deal with lots of important official presentations and brochures. Apart from all this clerical work, you might have to opt for the survey, which is done to obtain information about crimes related to the economy such as money laundering.
The job of an Assistant Enforcement Officer is not really a dangerous job, but if you are involved with handling economic crimes, then a certain degree of vulnerability and danger seeps in. That is why you will need to be careful when you are working in this position.
Also Read- How To Clear SSC CGL Exam
SSC CGL Assistant Enforcement Officer: Salary Structure
The salary structure of an SSC CGL Assistant Enforcement Officer is as follows-
| | | |
| --- | --- | --- |
| Allowances+ Basic | Category-X | Category-Y |
| Basic Salary | 44,900 | 44,900 |
| SIA (20%) | 8,980 | 8,980 |
| House Rent Allowance (HRA) | 10,776 | 7,184 |
| Dearness Allowance (DA) (5%) | 2245 | 2245 |
| Travel Allowance (TA) | 3600 | 1800 |
| Gross Salary | 70,501 | 65,109 |
| Central Government Employee Group Insurance Scheme (CGEGIS) | 2,500 | 2,500 |
| Central Government Health Scheme (CGHS) | 325 | 325 |
| National Pension System (NPS) | 4,490 | 4,490 |
| Deductions | 7,315 | 7,315 |
| Monthly Salary | 63,186 | 57,794 |
SSC CGL Assistant Enforcement Officer: Career growth
If you are concerned about the career growth of this position, then do not be as this government position's growth is very stable and uniform. Career growth is as follows-
Enforcement Officer (Group B Gazetted position within four to six years)
Assistant Director of ED (Enforcement Directorate)
Deputy Director of ED
Joint Director
Additional Director
Special Director in ED
You should be aware of the duty hours and location of posting as well before you apply for the AEO position.
Transfer– Since most of the offices are situated in cities i.e. state capitals and national capitals, you will not have to stay in rural areas. You will have to stay in one city for at least three years.
Work times– In this job, you will have to work for normal office hours. However, if you are on a raid or search party, then you might have to work for longer duration.
Also Read – Online Classes For SSC CGL
Conclusion
As an AEO, you will be working in one of the most powerful and influential departments in this country's government. If you are gearing up the upcoming examination, keep an eye out for the SSC CGL exam notification.
  Oliveboard Live Courses & Mock Test Series