Being a candidate preparing for SSC CGL 2020-21, you might be aware that the very first phase SSC CGL Tier 1 is very important and should be prepared for, wisely. In an attempt to clear Tier 1 you must have started preparation meticulously. There are a lot of topics to prepare if we take all sections together i.e. General Intelligence and Reasoning, English Language, General Awareness and Quantitative Aptitude. But mastering every topic is very important as every section has equal importance when it comes to Tier 1. In this blog, we will discuss Top 5 SSC CGL preparation tips that will help you to crack SSC CGL 2020-21 in one go.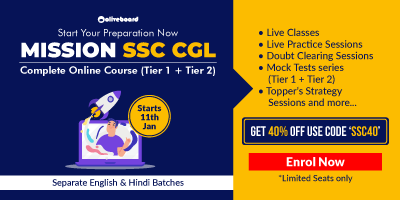 Analyze Your Performance Here By Attempting SSC CGL Mock Tests
SSC CGL Preparation Tips For Tier 1 Examination
Below are the 5 tips that you should follow in order to score well in the examination.
What's Next? Start Preparing for SSC CGL By Attempting Mock Tests Here
SSC CGL Preparation Tips| Tip 1: Exam Pattern
Before starting any exam preparation the primary focus is to know about the exam pattern and syllabus for that particular examination. This will help you in becoming more familiar with the examination and will remove all the fear in you.
We have a total of 4 sections in Tier 1 as mentioned below:
Note: In this paper, there is a negative marking of 0.50 for every wrong answer. The questions will be set both in English & Hindi except for English Comprehension in Tier-I.
Analyze Your Performance Here By Attempting SSC CGL Mock Tests
SSC CGL Preparation Tips | Tip 2: Detailed Understanding of Exam
The few minute details which every aspirant should remember while preparing for the

SSC CGL

examination are as follows:

The exam will be conducted in four stages, viz, Tier 1, Tier 2, Tier 3 and Tier 4.

Tier 1 will be conducted online comprising of 100 questions with a total of 200 marks. A total of 60 mins is allotted to the candidate to write the paper.

Tier 2 consists of 4 papers: Paper I, Paper-II, Paper III and Paper IV and will be conducted online. Each paper comprises of 100 questions with maximum marks of 200.  A total of 120 mins is allotted to the candidate to write the paper.

Tier 3 will be descriptive paper and will be pen and paper-based examination. Candidates will be given a total of 60 minutes for this exam and will be in English/Hindi.

The

SSC CGL

exam is conducted for various types of profiles, hence, in this stage post specific test/verification is done. It could be either of the following:
Computer Proficiency Test

Skill Test (wherever applicable)

Document Verification
Analyze Your Performance Here By Attempting SSC CGL Mock Tests
SSC CGL Preparation Tips | Tip 3: Important Topics & Preparation Strategy
To master this area, you need to combine skills with strategy. This section tests your logical and problem-solving skills. So, it is important to know and have an idea of the important topics asked in the SSC CGL examination and can attempt the questions in a proper manner.
General Intelligence and Reasoning Important topics
When we talk about questions you can expect 3-4 questions from classification, coding-decoding, analogy,        Venn diagram, series, and non-verbal reasoning and 1-2 questions from distance and directions, word formation, missing no. & verbal reasoning. Covering all the important topics mentioned can help you in scoring good marks in this section.
Quantitative Aptitude Important topics
This is one of the toughest and time-consuming sections. Prepare and practice topics like percentage, profit & loss, ratio & proportion, speed time & distance, boat & stream, data interpretation. First, clear all the basic concepts and memorize formulas related to the above topics. Geometry, Algebra, Mensuration & Trigonometry are the most important topics for SSC CGL preparation.
English Language Important Topics
The main three topics for the English language are Vocabulary, Grammar, and Reading Comprehension. 
For vocabulary read English newspapers daily and make a list of words that you come across and are new while reading and find its meaning, synonym, and antonym. Do this exercise daily.
For Grammar, make a table of rules for tenses, active and passive voice, direct & indirect and other important topics and revise them on a regular basis.
When we talk about GA it is very vast and most candidates are able to secure good marks in this section but there are a significant number of questions that candidates might find confusing. Every student has its own interest in subjects like sports, some are fond of history and dates while science attracts some. Study this section regularly identify the subject you are good at and prepare to gain maximum marks from that part.
Maximum questions are asked from Science, Politics, Geography, History, Economics, Current Affairs, Sports & Miscellaneous. You can pick any of the subjects according to your interest and can start preparing it.
Analyze Your Performance Here By Attempting SSC CGL Mock Tests
SSC CGL Preparation Tips | Tip 4: Practice Learn, Practice Learn
After understanding the exam pattern the next step is to get yourself prepared by practicing as much as possible.
Remember you are practicing to crack Tier 1 online examination. Therefore, keep your focus clear, crisp, and focussed.

Attempt

mock tests o

n a regular basis and analyze your performance.

Learn from your mistakes every time you attempt mock tests.

Revise important topics regularly.

Try to avoid the same mistakes.

Avoid stress while practicing be calm, cool and composed.
Analyze Your Performance Here By Attempting SSC CGL Mock Tests
SSC CGL Preparation Tips | Tip 5: Speed and Accuracy
The final and the most important part for any aspirant to crack the SSC CGL examination is to have good speed and accuracy.
Here are a few tips which will help you in your speed and accuracy:
Try to answer the questions that are very easy without pen and paper.

Try to improve your calculation speed and have a good grab on the question.

Analyze what you have answered correctly or wrong, check the solution for a better explanation and understand the reason behind the solution.

Decrease the time taken to attempt each mock test.

Solve the questions from the entire lot which you are confident of solving accurately.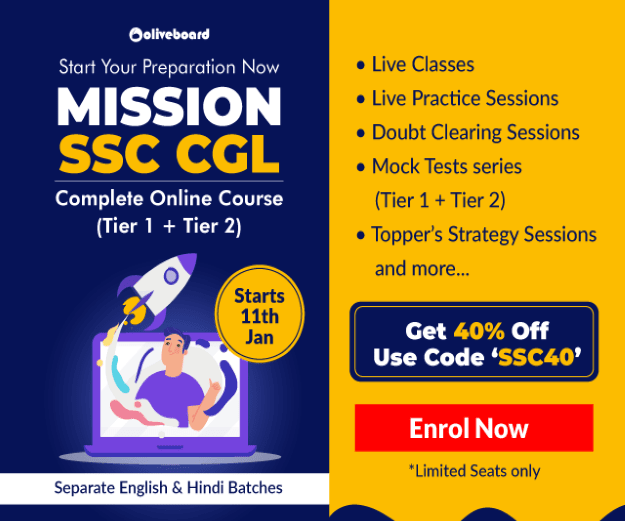 If you follow these 5 tips we ensure that you will definitely be well prepared for the SSC CGL examination. That's all from us in this blog, SSC CGL Preparation tips. Stay tuned with Oliveboard for more such blogs.
Analyze Your Performance Here By Attempting SSC CGL Mock Tests