Wondering what is Edge 2020? Well, it is a full-fledged learning platform to give an edge to your preparation and take it a step ahead. Edge provides you the Freedom of Choice where you can choose what to study when to study, and from whom to study. Be it Full Course, particular section, or a single topic, Edge provides access to All Courses under One Subscription. It includes everything that you would need when you think of Online Exam Preparation. Not just that, you get Unlimited Access to all the Current and Upcoming courses. And all this is available in Edge 2020. Read along to know more:
Subscribe to Oliveboard Edge Now
1. Oliveboard Edge 2020 – Online Exam Preparation 
1. 1000+ Videos & Classes by Top Faculty
Get complete access to Live Classes and video lessons that are designed by Top faculty keeping in mind the latest exam pattern and difficulty level.
Now don't wait for any exam notification to come. Start preparing for it whenever you want. The earlier you start, the better it would be. Short term courses or the long term courses, choose what you need. Once you subscribe to Edge 2020, you'll get access to all the courses* available at the platform. Choose any course, any time, whenever you like. Just Do it Your Way!
1.2 All India Tests & Practice Sessions
"I am good in Reasoning but weak at Quants"; "Have to work more on DI"; "Need to clear Basic Rules of Grammar", "Can I attend only Advanced Classes?"…so many queries, yet no proper answer. With Edge, get a one-stop solution to all your problems. Attend the session of whichever exam you are targeting – Your Plan, Your Choice! Any particular section that you need to polish or a topic that has to be brushed up – everything under One Plan!
Take Tests and undergo Live Practice Sessions where you are live with your peers and are competing. Get all India standing, this will help you prepare for the exam you are targetting.
Subscribe to Oliveboard Edge Now
1.3 200+ Important PDF Downloads and More
Does this platform provide you with enough chances to practice? Yes, of course, get PDF for the important sessions and you can practice the questions to understand the topics and concepts.
Remember reaching out to our faculty is now even easier with 'I Have A Doubt Feature'.
Subscribe Now & Get Instant 50% OFF On All Plans
1.4 Structured Courses with Complete Study Plan
Here is a list of a few courses that are running on the app at present. Also, you can avail access to all the courses that have been completed:
DI Decoded
Complete Puzzles Batch
Complete Financial Market 
These courses are structured in such a way so as to cover every unique aspect required to cover the exam. One such important thing is the study plan. We help you with a guided plan on how you should approach your exam preparations.
1.5 Confused About A Question – Use 'I Have A Doubt' Feature
To make the learning experience more classroom like, we have introduced this new feature called 'I Have A Doubt'. You can raise your query during the Live class or the video lesson and the faculty will go over it and will reply to you over mail with the complete explanation.
This feature will help you get clarification of the doubt you are having.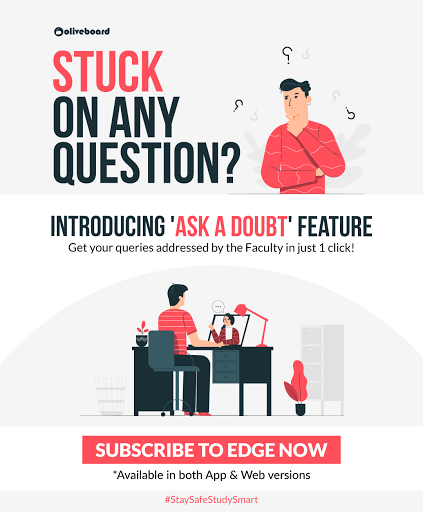 Wondering how to access this feature? Follow the below-mentioned steps to utilize the new feature:
Step 1: Go to Edge Live / Video Class
Step 2: Click [I have a Doubt]  Button
Step 3: Submit your Doubts
Step 4: Faculty will send your answers through email.
1.6 Unlimited Variety: New Courses every Week
Get fresh courses every week to stay updated with ever-changing patterns and trends. Oliveboard Edge 2020 is a "One Plan for All Courses" to provide you with the best-quality Online exam preparation available out there. You Pay Once And Get Access to Current and Upcoming Courses on the Platform.
2. Oliveboard Edge – Frequently Asked Questions (FAQs)
Q. I am preparing for IBPS PO Prelims. Can I attend the General Awareness class also to prepare for Mains simultaneously?
A. Yes, as an Edge 2020 subscriber,  you will have the full choice of attending whichever course or session you want to attend. You will get unlimited access to attend multiple courses and classes (as long as your subscription is active). You will have full freedom to choose when to study, what to study & from whom to study.
Q.  What is meant by Section and Topic-wise Courses? Are they Test Series or Online Course?
A. They are Video Courses of all sections and topics for online exam preparation. For Eg. full Banking Section course, Ace Reasoning Course, and also Topic-specific courses, like Data Interpretation, Puzzles, English Grammar, Economy, etc. The Expert Faculty of each subject will be there to help you complete that particular sections/topics in the said duration.
Subscribe to Oliveboard Edge Now
Q. If I miss any class, will I be able to attend it later?
A. Yes, if you miss any class, you can watch all the recordings later.
Q. What if my subscription expires?
A. You can renew your subscription at any time. You will again be able to access all the courses on the platform.
Q. What is not included in the Edge 2020 Subscription?
A. Edge 2020 Subscription will give you access to all the courses except for the RBI Grade B/SEBI Courses and the Test Packs.
Q. Can I download the classes in my Laptop/mobile?
A. You will not be able to download the classes. But you can view them anytime you want (as long as your subscription is active).
Q. Why should I subscribe to Edge?
A. Subscribing to Edge gives you unlimited access to all courses* on the platform. New courses are launched every week and with one subscription you will get unlimited access to all courses – current & upcoming courses (as long as your subscription is active).
Q. What are the types of courses will I get access to after subscribing to Edge 2020?
A. You can go through the following link to have an idea about the course that will be live on Edge 2020. Do not worry this is just the tip of the iceberg.
We hope now all your queries are cleared and you are ready to enjoy the freedom that you'll be getting as an Edge Subscriber!
Subscribe Now to Get Unlimited Access to Everything on Edge!!! 
Also, Check:
Oliveboard's discuss forum

 – For any more query, you can directly join our telegram channel. Our experts will definitely help you.