In the RBI Grade B exam, General Awareness (current affairs) is one such section which if prepared properly can fetch you great marks and subsequently increase your chances of clearing the cut-off marks for Phase 1 as well as Phase 2. Not to mention, current affairs are integral to both Phase 1 and Phase 2 of the RBI Grade B exams. Keeping this in mind, let us start with knowing what all should be done to prepare well for RBI Grade B General Awareness Preparation.
How to Approach RBI Grade B General Awareness?
RBI Grade B Current Affairs Preparation
The most important tip would be to simultaneously prepare for Phase 1 & Phase 2 Current Affairs.
I. What to Cover for Current Affairs?
Current Affairs include the following:
Daily News (for Phase 1 & Phase 2)

Static GK (For Phase 1)

Economic Survey (for Phase 1 & Phase 2)

Union Budget

(for Phase 1 & Phase 2)
Census 2011

(for Phase 1 & Phase 2)

SECC 2011 (for Phase 1 & Phase 2)

Important RBI Circulars, Notifications, Reports (For Phase 2)

Government Schemes

(Union & State Govt. Schemes) (for Phase 1 & Phase 2)
---
II. Phase-1 GA
1. The overall cut-off in Phase-1 can be easily cleared if you have a good score in GA.
2. The last 6 months of current affairs prior to the exam must be prepared thoroughly. But the high priority must be given to the last 3-months current affairs.
3. Static GK questions would be related to current affairs only. Let's say a country got a new president, then it might be possible that the currency or capital of that country might be asked.
» Phase-1 Current Affairs – Areas to be Covered
Appointments/Committees/Constituencies

Awards/Film Festivals

Meeting/Summits

Schemes/Campaigns/Portals

International News/India's initiatives with other countries

Reports/Indices

Obituaries

Banking Terminology

Headquarters of Banks

Banking, Economy & Finance News

Census Data

Socio-Economic Caste Census

Union Budget

Economic Survey

Ports, Industrial parks, museums, Power plants, nuclear plants, missile launches, etc.

Biography/Autobiography

Abbreviations

Festivals

Stadiums

National Parks/Sanctuaries

Books

Sports

Places of importance like World Heritage sites/Lakes/Rivers/Mountains/Temples

Capitals & Currencies

Headquarters of various organizations

Dams

National & International Days/Themes

Airports
Have a look at the monthly CA capsules here
---
III. Phase-2 GA
1. Nearly 80-90% of the ESI Paper comprises current affairs.
2. For the Finance paper, the trend is changing, concepts linked to current affairs are being asked.
3. For English descriptive writing, current knowledge can help you get the fodder material for essay writing.
4. Prepare current affairs for the last 6 months prior to the exam.
5. But for important reports, indices, schemes, cover these from the last 8 months prior to the exam.
6. Cover Government Schemes (Latest – all & Old – only selected ones).
7. Give emphasis to the current affairs that are related to the syllabus and get all the information about them.
Have a look at the monthly CA capsules here
---
You can never be too prepared for the static GK as you may have asked anything. Therefore, ensure that you check out the Free Static GK E-Books Download page regularly to download new ebooks as they become available.
IV. How to Prepare for Current Affairs?
The current affairs part requires regular reading and analysis of the newspapers. While GK supplements might help in some cases where some particular news has not been mentioned clearly or in simple language in the newspaper, but the majority of the reading has to be done from the newspapers. You can easily focus on the news from the newspaper by following the steps:
1. Take a physical newspaper or an e-paper of your preference (recommended: The Hindu, or Indian Express, or Economic Times).
2. Take a pen and highlight all those topics or articles which are relevant for your examination. There are a total of 5 categories:
Economic/Business News

Sports News

International News

National/Government News

Science/Technology News
3. You will be focusing only on those topics from the newspaper. Other topics may be safely ignored as they are not part of your exam.
4. Take a notebook and write down the following details of any news article that comes in any of the 5 categories
Name/Title of the News Article

What is the news about?

Where is the news event applicable?

When did the news event happen?

How did the news event take place?

Additional Facts and Figures: if deemed necessary
5. Use the notebook to quickly revise or revisit any topic that you have covered from the news article in any of the five categories
6. Revise every week to keep your memory fresh regarding the concepts
Additionally, you will find this video to be helpful if you need help focusing on the financial awareness for the RBI Grade B Phase 1 exams:
Additionally, at the request of our students, we also have a video dedicated to reading and understanding 'The Hindu' newspaper, which shall be quite helpful for you if you too would prefer to read the said newspaper for your RBI Grade B General Awareness preparation.
All the Best!
---
RBI Grade B Online Course 2021-22 by Oliveboard
If you are someone who is aiming for the RBI Grade B Exam and are confused about how to start or go about the preparation, Oliveboard has come up with RBI Grade B Online Cracker Course to help you ace the RBI Grade B exam for serious aspirants. Read below what is included in the Course.
Oliveboard offers the best RBI Grade B Online Coaching for you all which will help you crack the exam with ease in your first attempt.
Do join for your RBI Grade B 2021-22 exhaustive preparation.
Go through free RBI Grade B study materials PDFs and take up RBI Grade B Free mock tests online.
Oliveboard's RBI Grade B Online Course 2021-22 will be your one-stop destination for all your preparation needs
1. Course Details
RBI Grade B Cracker is designed to cover the complete syllabus for the 3 most important subjects: GA for Phase 1 and Objective + Descriptive portions of ESI + F&M for Phase 2 exam.
Not just that, it also includes Mock Tests & Live Strategy Sessions for English, Quant & Reasoning for Phase 1. The course aims to complete your preparation in time for the release of the official notification.

1.1. Features:
RBI Grade B 2021-22
Crash Course Offerings
Video Lessons & Study Notes

Mock Tests

90+ Video Classes for ESI & FM

LIVE + Revision Sessions for ESI & FM

10+ Descriptive English Classes

Detailed Study Notes ESI & FMCurrent Affairs Capsules & Past Year Papers

6 Descriptive Mock Tests (ESI & FM)

30 Objective Mock Tests (15 – ESI & 15 – FM)

10 Full-Length Mock Tests for Phase 1

Topic Tests for each chapter of ESI & FM (1 Markers & 2 Markers)
*We will get your ESI & FM descriptive answers evaluated!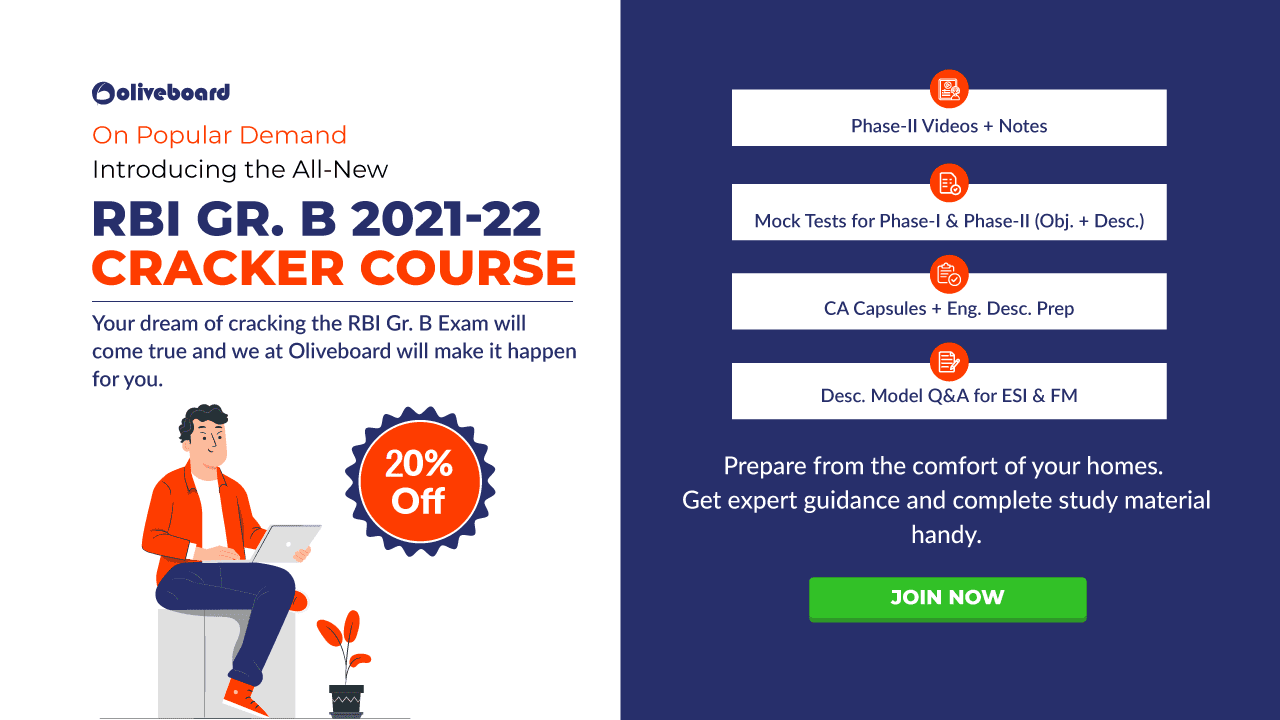 ---
1.2. How to enroll for the RBI Grade B Online Course 2021-22?
Sign up or log in using the link given below. You will be redirected to the payments page. Read the course offerings and subscribe to RBI Grade B 2021-22 Cracker Course.
Now that you are aware of the RBI Grade B Online Classes, why wait?
Get Started with RBI Grade B 2021-22 Online Course comprising Video Lessons, Detailed Study Notes & All-India Mock Tests for Phase-1 & Phase-2.
---
RBI Grade B Toppers Testimonials