Finance & Management is one of the three papers (F&M, ESI, and Descriptive English) that appear in the RBI Grade B Phase-2 examination. Given that this paper is applicable to only RBI Grade B and other bank examinations, in general, do not focus on this subject specifically, students may find it difficult to prepare for this section. Hence this blog focuses on how you can prepare for FM as a part of the preparation for RBI Grade B Phase-2. We can breakdown the F&M section is into two parts: Finance and Management. You need to equally focus on both these sub-sections. AS per the trend observed in the past year's papers, 50% of the F&M paper comprises management questions. Let us begin on the approach for Finance & Management Preparation.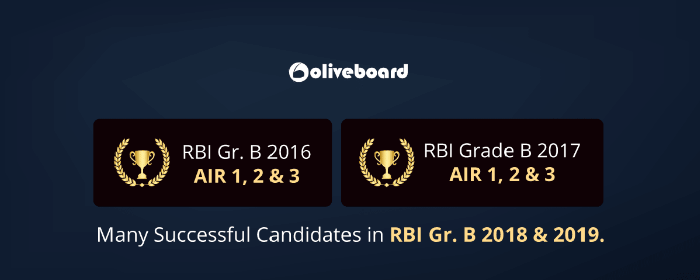 Have a look at the RBI Grade B Crash Course covering all the Changes introduced in the Exam Pattern.
How to Approach Finance & Management Preparation?
This is one of the toughest parts of the exam owing to the technical nature. Most people do not have a background in finance and management, so this is the paper you need to prepare for the most. The difficulty level of the 2017 paper was very high.
The topics to be prepared for F&M are listed below:
Financial System
Regulators of Banks and Financial Institutions

Reserve Bank of India- functions, and conduct monetary policy

Banking System in India – Structure and concerns, Financial Institutions – SIDBI, EXIM Bank, NABARD, NHB, etc, Changing landscape of banking

Impact of the Global Financial Crisis of 2007-08 and the Indian response
Financial Markets
Primary and Secondary Markets (Forex, Money, Bond, Equity, etc.), functions, instruments, recent developments.
General Topics
Risk Management in Banking Sector

Basics of Derivatives

Global financial markets and International Banking – broad trends and latest

Financial Inclusion

Alternate source of finance, private and social cost-benefit, Public-Private Partnership

Corporate Governance in Banking Sector, the role of e-governance in addressing issues of corruption and inefficiency in the government

The Union Budget – Concepts, approach, and broad trends

Inflation: Definition, trends, estimates, consequences, and remedies (control): WPI, CPI – components and trends; striking a balance between inflation and growth through monetary and fiscal policies.

FinTech
Management
Fundamentals of Management & Organizational Behaviour: 
Introduction to management;

Evolution of management thought: Scientific, Administrative, Human Relations, and Systems approach to management;

Management functions and Managerial roles;

Nudge theory
Meaning & concept of organizational behaviour;
Personality: meaning, factors affecting personality, Big five model of personality;

the concept of reinforcement;

Perception: concept, perceptual errors.

Motivation: Concept, importance, Content theories (Maslow's need theory, Alderfer's' ERG theory, McCllelands' theory of needs, Herzberg's two-factor theory) & Process theories (Adams equity theory, Vroom's expectancy theory).
Leadership: 
Concept, Theories (Trait, Behavioural, Contingency, Charismatic, Transactional and Transformational Leadership;

Emotional Intelligence: Concept, Importance, Dimensions.

Analysis of Interpersonal Relationship: Transactional Analysis, Johari Window;

Conflict: Concept, Sources, Types, Management of Conflict;

Organizational Change: Concept, Kurt Lewin Theory of Change;

Organizational Development (OD): Organisational Change, Strategies for Change, Theories of Planned Change (Lewin's change model, Action research model, Positive model).
Ethics at the Workplace and Corporate Governance:
Meaning of ethics, why ethical problems occur in business.

Theories of ethics: Utilitarianism: weighing social cost and benefits, rights and duties, Justice and fairness, ethics of care, integrating utility, rights, justice and caring,

An alternative to moral principles: virtue ethics, teleological theories, egoism theory, relativism theory, Moral issues in business:

Ethics in Compliance, Finance, Human Resources, Marketing, etc. Ethical Principles in Business: introduction, Organization Structure, and Ethics, Role of Board of Directors, Best Practices in Ethics Programme, Code of Ethics, Code of Conduct, etc.
Corporate Governance: 
Factors affecting Corporate Governance;

Mechanisms of Corporate Governance
Communication: 
Steps in the Communication Process;

Communication Channels;

Oral versus Written Communication;

Verbal versus non-verbal Communication; upward, downward and lateral communication;

Barriers to Communication, Role of Information Technology.
Explore Finance & Management Notes & Video Lessons Here
---
I. Finance & Management Preparation Tips (F&M)
1. General Tips 
» Finance
Get your concepts strong.

Cover all the topics given in the syllabus.

Follow current affairs related to the topics in the Finance syllabus.
» Management
Cover all the chapters given in the syllabus and have a clear understanding of the concepts to be able to write descriptive as well as objective answers.
---
II. Important Chapters for Objective Paper
Primary & Secondary Markets (Forex, Money, Bond, Equity, etc); functions, instruments, recent development

Risk management in the Banking sector – Types of risks, Basel norms

Basics of Derivatives – Forwards, Futures, Options (call & put option)

Inflation: Definition, CPI & WPI

Miscellaneous – Capital budgeting & break-even leverage (only concept)

Current Affairs – Starting from August 2020 (Finance in news)
Take ESI and F&M Topic Tests Here
---
III. Important Chapters for Descriptive Paper
Corporate Governance in the Banking sector – Recent developments & Important committees

PPP model (Alternate Sources of Finance)

Impact of Global Financial Crisis of 2007-08 and the Indian response

Financial Inclusion and financial technology

Changing landscape in the banking sector – the merger of banks; privatisation; disinvestment; new types of banks (payment & finance banks); views on large corporate houses getting banking license (RBI license).
---
IV. Approach for Finance & Management (F&M) Descriptive Paper
Step-01: Start with the Management section. The desc. ques. from this section would be static in nature. Be thorough with the concepts.
Step-02: While reading each chapter, note down key words for each chapter (as part of various theories/concepts).
Step-03: For the Finance section, make a list of current affairs-related topics (in news lately) and static topics and write down keywords for each one.
Step-04: While writing the answers, make sure you are building your answers around these keywords.  
Step-05: Practice at least 12-15 answers before you go for the examination.
Start out by Practising Free Descriptive Tests for F&M
---
Download free eBook: RBI Grade B Sample Descriptive Questions for ESI & FM
---
We hope that you liked the content given in this blog post and are now clear about the approach for Finance & Management Preparation?
Do not let the length of the above-mentioned list of preparation resources intimidate you. You do not have to read them cover to cover, as that is going to take plenty of time. You need to smart and selective in your preparation and be selective about reading.
The best way to find out what you need to prepare from these resources is by referring to the RBI Grade B preparation material prepared by experts in the industry after thorough research. This is where RBI Grade B Mock Tests come in handy.
The Mock Tests are created by exam toppers and experts who have extensive knowledge about the exam, its pattern, and syllabus. Taking RBI Grade B Mock Tests will:
Familiarize yourself with the pattern, nature, and difficulty level of the exam
Help you figure out exactly what you need to focus on for the exam from your study material so you can be smart & selective and save time
Determine your speed & accuracy
Identify your strengths & weaknesses
Try it yourself! Take Free RBI Grade B Phase 2 Mock Tests.
---
RBI Grade B Online Course 2021 by Oliveboard
Oliveboard offers the best RBI Grade B Online Coaching for you all which will help you crack the exam with ease in your first attempt.
Do join for your RBI Grade B 2021 exhaustive preparation.
Go through free RBI Grade B study materials PDFs and take up RBI Grade B Free mock tests online.
Oliveboard's RBI Grade B Online Course 2021 will be your one-stop destination for all your preparation needs
1. Course Details
RBI Grade B Cracker is designed to cover the complete syllabus for the 3 most important subjects: GA for Phase 1 and Objective + Descriptive portions of ESI + F&M for Phase 2 exam. 
Not just that, it also includes Mock Tests & Live Strategy Sessions for English, Quant & Reasoning for Phase 1. The course aims to complete your preparation in time for the release of the official notification.

» Features:
RBI Grade B 2021
Crash Course Offerings
Video Lessons & Study Notes

Mock Tests

90+ Video Classes for ESI & FM

LIVE + Revision Sessions for ESI & FM

10+ Descriptive English Classes

Detailed Study Notes ESI & FM

Current Affairs Capsules & Past Year Papers

6 Descriptive Mock Tests (ESI & FM)

30 Objective Mock Tests (15 – ESI & 15 – FM)

10 Full-Length Mock Tests for Phase 1

Topic Tests for each chapter of ESI & FM (1 Markers & 2 Markers)
 *We will get your ESI & FM descriptive answers evaluated!